Yazaki Europe Ltd is a global tier 1 supplier in the automotive industry. It has many suppliers, sites and customer service centres which must comply to a number of different standards and regulations.
Seeing a need to consolidate and integrate its documentation and auditing processes, Yazaki Europe Ltd procured Qualsys's enterprise quality management system, EQMS.
In this interview, Harish Gohil, European Quality Systems Manager, and Valère Vastmans, European Lead Auditor, talk about how and why Yazaki selected EQMS and outline its vision for the system in the future.
Qualsys: Why did Yazaki Europe Ltd need EQMS?
Valère Vastmans: It started off in our department, Supplier Development. We were looking for a solution to support us with supplier auditing activites. We didn't have software in place, so everything we did was manual.
We were looking into EQMS as it would give us the support we needed. We then had to convince Harish to look for software which would support activities across Europe. After we had a demonstration of EQMS, we also started looking for a document management system. We then started the tendering process.
Yazaki has been in Europe since 1984. We've grown so much, we now have 22 sites and many customer service centres interfacing with customers across Europe.
Each location has its own way of managing and doing their own thing. We need EQMS to consolidate these activities – get everything in a form and manage documents and suppliers in the same way.
Harish Gohil: We're certified to ISO/TS 16949 (now IATF 16949) and we operate a corporate certification scheme. If we can have all of our sites managing the documentation and audits in the same way, we can substantiate that in our auditing certification requirements.
What challenges did Yazaki Europe Ltd face before EQMS?
VV: As a global tier 1 supplier in the automotive industry, you need to comply with a lot of different management standards and legislation. We had many isolated systems which are now going to be consolidated using EQMS. At present, generating reports is a manual, time-heavy process. EQMS will help us to automatically generate reports.
HG: By having a standardised system, everyone can now manage everything in the same way. During our audits, we can now see and compare across all locations. Before we didn't have any way to check this. Everyone was doing everything differently. Now, by having EQMS to manage the documents and audits, we can compare eye-to-eye.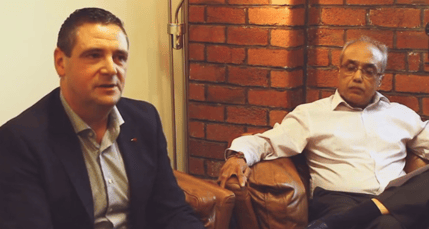 Valère Vastmans and Harish Gohil discussing the challenges before EQMS
How will EQMS help you achieve your objectives?
HG: Having EQMS across all locations means we have European-level quality objectives and targets which we can manage using EQMS.
EQMS Audit Manager will support us for all internal audits, as well as supplier and customer audits. It's user-friendly for our end-users, which means it'll be easy to get all of the data into one system and really start using it.
VV: It's the same for EQMS Document Manager. When we have all of the data in one system, we can manipulate the data in lots of different ways so we can report on anything.
Document control process with EQMS
How will you and your customers benefit from using EQMS?
HG: Having consistency means we can manage our customer satisfaction levels. We can compare how different locations are using the system and how this is having an impact on customer satisfaction. With EQMS, we can monitor the data from the system to evaluate and analyse the performance of the quality and audit management system in each location. This means that we can compare and improve.
From a business point of view, EQMS will generate a lot of cost savings as we'll minimise the amount of time we have to spend managing everything manually.
VV: EQMS should improve overall business improvement. It'll increase efficiency. It'll decrease administration work. We won't need to spend lots of time generating reports.
What's your long-term vision for using EQMS?
HG: At the moment, we're implementing EQMS in Europe. But we have our sister companies in other regions of the world so we'll want to roll out EQMS to other areas if the pilot is successful.
VV: After our pilot has been successful, we'd like our suppliers to use EQMS for compliance. We'll also link EQMS Document Manager to our business management system.
EQMS KPI Dashboard
Why did you choose EQMS by Qualsys?
HG: One of our plants in Turkey was already using a similar software solution. But that software wouldn't meet the requirements for the whole of Europe, so we looked for other software providers. Having evaluated a lot of other software providers, we found EQMS met most of our requirements.
VV: The tendering process meant reviewing our internal systems and external ones. We found EQMS was the best one to use.
What you should do now
Actively get your stakeholders engaged in quality management and understand the value of EQMS. Download our Stakeholder Engagement Planner below.