What's included:
What our customers say

EQMS ROI Calculator

Software Buyer's Guide

EQMS Datasheets

'Step-by-step guide to engaging your stakeholders' Excel spreadsheet

'The Case for Document Management' whitepaper

Business case template – Build or buy?

Deployment options presentation

Site survey

Case study: Carillion in China with iEQMS Auditor for iPad

EQMS Connect for SharePoint Server® product guide

Vendor scorecard tool

Templates
Vendor comparison tool

Getting internal buy-in for EQMS

What our customers say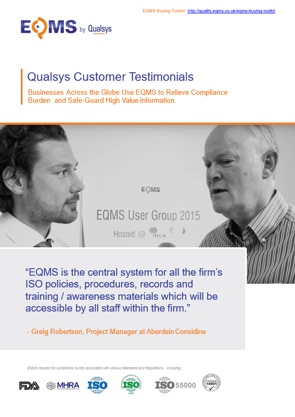 Businesses across the globe use EQMS to relieve the compliance burden and to safeguard high-value information. This customer testimonial document explains how Qualsys helps organisations to achieve excellence:
Results we get for our customers
How EQMS is used in over 128 countries
Links to longer reviews of our service
Download the Qualsys Customer Testimonials PDF here

EQMS ROI Calculator (12 pages)
Create your 4-Year Business Case Report in just two minutes.

EQMS increases operational efficiencies and reduces the administrative burden of meeting quality and compliance standards.


Operational and regulatory non-conformances have significant financial and reputational impact. Directors are responsible for reducing risk, with increased sanctions now in place.


Business process efficiencies derived from EQMS enable agile, dynamic decision-making, time savings and competitive advantage.


Complete these simple four steps to evidence the return on investment (ROI) and create a customised business case report.
Software Buyer's Guide (4 pages)
Investing in new quality management software can be a big commitment. Finding the right vendor is crucial to the long-term success of your project, and a vendor that really understands your requirements, has experience within your industry, and gives you the option of meeting existing customers is a great start.
This EQMS Software Buyer's Guide gives you all the tools to help evaluate each software solution and the service supporting it.
EQMS Datasheets
The EQMS Datasheets expand on the detail given on the EQMS website and will help you to compare products and build your business case.
Our EQMS Datasheet Pack includes:
Document Manager
Audit & Inspection Manager and the iEQMS Auditor App
CAPA Manager
Issue Manager
Risk Manager
Training & Records Manager
Incident and Accident Manager
SharePoint Connect
Step-by-step guide to engaging your stakeholders
It can be difficult to get others to buy in to new software. This is why our "Reducing your Roadblocks" spreadsheet helps you to prepare and plan for getting your stakeholders engaged.
This step-by-step toolkit for engaging your stakeholders includes the following:
Defining your business goals – why is EQMS important?
Quality management gap analysis
"Building an EQMS project" road map
Stakeholder engagement strategy
EQMS resources and details on how to get more information
'The Case for Document Management' whitepaper (9 pages)
This whitepaper discusses the key issues around document management. It is an ideal tool for busy Quality and Compliance Managers and provides a foundation from which to make informed decisions on process, implementation and practical application of document management.
Business case template – Build or buy? (5 pages)
Use this template for building a business case to support you as you procure an EQMS software solution. You can edit and modify the document to meet your specific requirements.
The template is intended to summarise some of the central arguments in the 'Build or Buy' debate to allow quick reference and to provide initial discussion points.
Deployment options
Make EQMS as efficient as effective as possible by considering how best to deploy it throughout your business.
This short presentation covers two options:


Single Database Model (as employed by Diageo)
Global Administration Server with Discrete Business Entity Databases (as employed by Sodexo)
Site Survey Form (4 pages)
This Site Survey Form is a valuable tool for ascertaining as much technical information as possible prior to your EQMS installation consultant arriving on site.
The aim of this form is to eliminate, where possible, any unforeseen issues or problems and give you a clear indication of your responsibilities.
Use this form as a guide, in conjunction with regular consultations with your supplier, when determining the configuration and architecture of your EQMS.
Case study: Carillion in China with iEQMS Auditor for iPad
This case study analyses how Carillion implemented EQMS Audit & Inspection Manager in China, and details the benefits Carillion achieved in its supply chain auditing processes using the groundbreaking iEQMS Auditor for iPad application.
EQMS Connect for SharePoint Server® product guide
EQMS Connect for SharePoint Server® is a powerful and easy-to-use tool that delivers cast-iron control over any content that needs to comply with stringent regulations or mandatory business standards.

This comprehensive product guide details the:


When you buy a new EQMS, we want you to make the best decision for your company. Use our EQMS Vendor Scorecard to compare your options.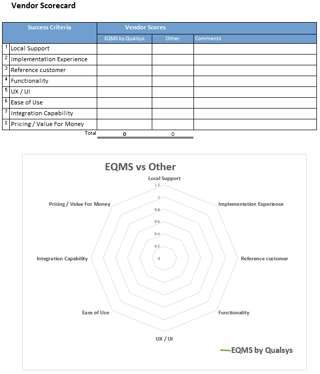 Want more?
Download our ISO 9001:2015 Toolkit which covers the essential changes to the standard.