Ready to get more visibility, control and insights into the performance of your food safety management system?
Food safety management systems protect your reputation, boost consumer confidence and prevent waste. But with an increasingly complex global supply chain, new regulatory requirements and more pressure to innovate, the food safety management system falls short for many companies, exposing them to risk. Many business leaders and food safety management professionals are recognising the value in using systems such as EQMS to manage all stakeholder activity and quality initiatives, assign responsibility and track supplier performance.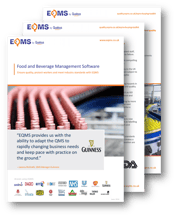 Download the Food Safety Management System Brochure to learn more about using EQMS >>>
You will see how you can get instant insights into performance, use workflows to manage robust processes and use electronic signatures to hold personnel responsible for quality.
Food manufacturers, processors and suppliers benefit from using EQMS:
Track issues through to resolution.
Enable leadership to communicate risk and manage it effectively.
Remove ambuiguity from food safety audits.
Manage supplier performance.
Ensure employees always have the latest training.
Manage equipment lifecycles.

EQMS helps you to manage and evidence all ISO 22000,

HACCP, FSMA, BRC, GFSI and FDA requirements.