Want to contribute to this article?
Make sure you're up to speed with the revision with these essential online ISO 14001:2015 resources.
1)

International Organization for Standardization (

ISO)
What better place to start than the home of ISO 14001 itself? Ideal for anyone wanting to understand the basics and benefits of gaining ISO accreditation, the ISO website offers:
Clear, up-to-date information on the ISO 14001:2015 revision process
A news area that delves further into the changes
An online store where you can purchase the current draft
---
2) Environmental Protection Agency (EPA)
Need to integrate an environmental management system into your company? Prepared by the U.S. Environmental Protection Agency, this in-depth overview is the perfect introduction to what an EMS entails. This easy-to-follow site contains all the essential information, including:
---
3) BSI Group videos
In this video, the specialists at BSI provide some background to the ISO 14001:2015 revision and explain what it'll mean for businesses certified to the standard.
This video goes into detail about how to migrate from the 2004 standard to the 2015 revision.
---
4) ISO 14001 Academy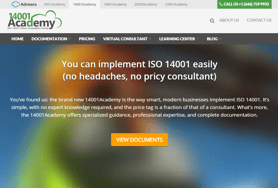 Specialists in helping organisations implement ISO standards, ISO 14001 Academy provides all the resources you need to implement the standard for a fraction of the cost of a consultant. With online guidance and expertise, ISO 14001 Academy is ideal for anyone wanting to attain accreditation quickly and easily.
ISO 14001 Academy have also produced this excellent infographic.
---
5) EMS templates

These generic ISO 14001 templates have been created to give small and medium sized enterprises (SMEs) in any sector a head-start in developing an effective EMS. You can start with these templates as a basis for your EMS and tailor them to your own specific circumstances by inserting your company details where prompted.
---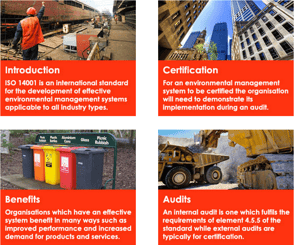 Compiled by an independent environmental consultant, this ISO 14001 index breaks down the standard into the following sections:
Introduction
Certification
Benefits
Audits
Requirements
Training
Steps involved
Engaging a consultant
---
7) Powershow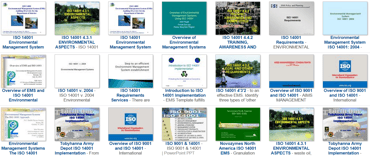 Powershow allows users to search through millions of unique PowerPoint presentations, including a huge range of ISO 14001 videos. Topics include:
Introduction to ISO 14001 and beginner's guides
Auditor training tips and requirements
Real life case studies
---

What you should do now
Download our ISO 14001:2015 Toolkit and prepare yourself for all the essential changes in the upcoming revision.