Over 50% of quality professionals said they don't have a full picture of what business equipment they have during "Managing Equipment for Asset Care and Safety" webinar.
Consequences of this include:
Unsafe, uncalibrated equipment
Inability to fulfil an order because you don't have the equipment to do the job
Procurement delays or errors
Wasting money, time and effort purchasing equipment your organisation does not need.
EQMS Equipment Manager enables organisations to systematically maintain and distribute comprehensive equipment records, manage maintenance, calibration and safety checks, and optimise the use of company assets.
During the EQMS Spring User Group last month, Rob Needham, Technical Director at Qualsys, gave customers a preview of a new version of the module, EQMS Equipment Manager version 6.8.
Needham said: "EQMS Equipment Manager 6.8. is going to be a big step up in terms of functionality and user experience. There are some really exciting changes which will make it much easier to manage equipment lifecycles and much faster for end-users to access the information they need."
Take a look through this page to view EQMS Equipment Manager 6.8 which will be available from Q2 2017.
| | |
| --- | --- |
| Download updated EQMS Equipment Manager Datasheet >>> | |
Asset Register
EQMS Equipment Manager asset register enables you to access a comprehensive database of all your business equipment.

EQMS Equipment Manager enables you to manage the calibration history of assets.
With the module, you can:
Record part numbers
Serial numbers
Model
Asset code
Detailed technical and functional descriptions
The asset register makes it much easier for stakeholders across your business to find and understand the status of equipment. Users can easily drill down into the history of equipment - calibration audits, documents, standards, and a journal of entries specific to each asset, so you don't need to spend hours seeking the most up to date information.
Store Equipment Types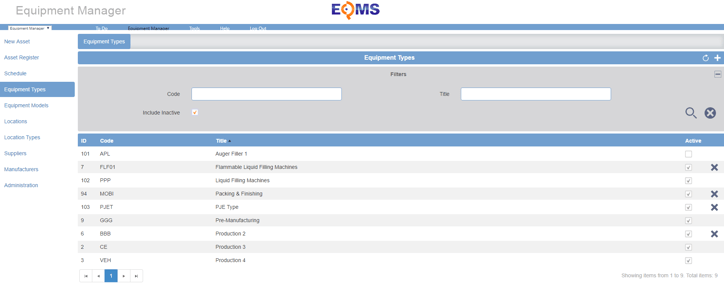 EQMS Equipment Manager enables you to store a comprehensive record of business equipment. The system can be configured with equipment types to suit your organisation. These fields may include:
Plant

M

achinery
Tools
Gauges
Instruments
Vehicles
Furniture
Technology.
Equipment Model Details
EQMS Equipment Manager enables calibration checks to be regularly maintained and allocated to each piece of equipment for ease of access and simple audit trails. You can also associate Standards and Documents to equipment model groups or types, to reduce compliance burden.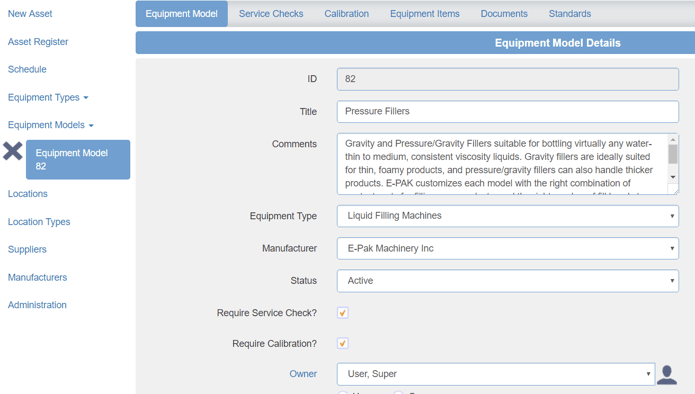 Manufacturer
A list of your equipment manufacturers can be accessed in one central location. This helps you:
Find addresses, phone numbers and contact details of personnel at your equipment manufacturer.
If your supplier no longer exists, you can still find the OEM.
Store all manufacturer warranty documents and agreements.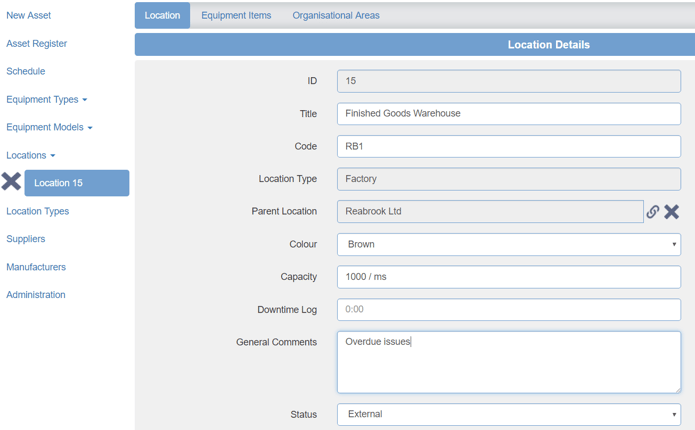 What you should do now
If you are interested in a best practice approach to managing your business equipment, watch the "Managing Equipment for Asset Care and Safety Webinar" here.
To see more of EQMS Equipment Manager 6.8 , request a 1-to-1 demonstration with one of our team.