Want to contribute to this article?

1478. Oxford University Press (OUP) is older than most nations. With over 500 years history, OUP has a legacy to be proud of.

And a reputation to sustain.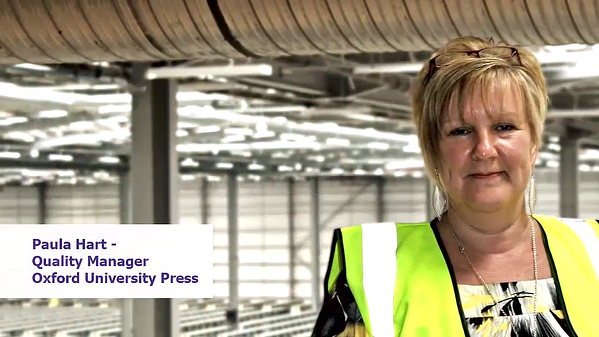 [click image to watch video interview]
As Paula Hart, Quality & Health and Safety Manager for OUP's distribution division says,
"We benefit from a long term view, and are fully committed to quality innovations and best practice.
We have invested in state of the art printing and distribution facilities throughout the world, for example our Kettering facility holds 28+million SKU's (books) printed in 40 languages.
We use industry leading ERP and Quality Management software such as EQMS to manage Health and Safety, Document Control and give us real-time Management Information (MI).
This helps us stay flexible and competitive as the printing / distribution industry experiences rapid change.
Quality and adaptability are crucial drivers that will ensure OUP's success for the next 500 years."

Oxford University Press (OUP) Distribution Services.
Paula Hart gives Mike Pound, Qualsys Managing Director, a tour of Oxford University Press' Kettering Distribution Facility.
Aerial View (Kettering)
Form over fashion...
Paula Hart and Mike Pound at the start of the OUP Warehouse tour.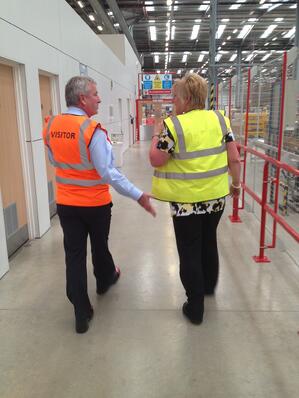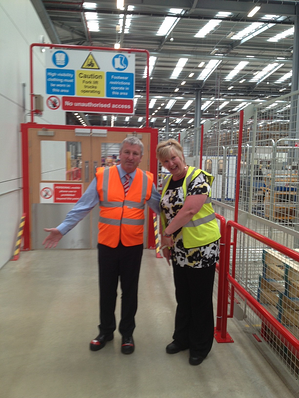 Mike Pound, Managing Director of Qualsys, said:
"Oxford University Press is a great example of staying power through innovation and quality. The team there always push for better. The move to the new Kettering distribution facility reflects that ethos.

I remember the EQMS implementation at the original Corby site and how impressive that site was. The scale of the new operation is even more ambitious. 500 years plus of commitment and investment. I hope EQMS is used by them for the next 500!"
Watch the video interview with Paula Hart