Want to contribute to this article?
Qualsys' Director Rob Needham (above) and Business Development Manager Michael Ord recently returned from a customer site visit to Diageo's famous St James Gate Brewery in Dublin - home of Guinness, no less.
Diageo have been EQMS customers for over 7 years, now using EQMS Document Manager and EQMS Audit Manager throughout many of their drink brands worldwide. They are massive advocates re the benefits of EQMS in supporting ISO9001 and Quality Management in general.
Rob Needham said:
"2013 has been a big year for EQMS. As we continue to invest to develop our GRC suite, including our flagship EQMS Document Manager product, it is crucial that we pass on the learning and best practices to our existing customers.
As longstanding customers, I'd like to think that we have built a real understanding and partnership with the team at Diageo. This Dublin visit was really useful, we discussed new offline sync, Microsoft Outlook and Microsoft Office Add-ins for EQMS and feature requests for EQMS Audit & Inspection 3.0 and the new Audit Manager Mobile App which is currently in test.
I'd like to thanks all at Diageo (too many to name...) for your support."
Guinness' historic St James Gate Brewery in Dublin:

Read the Diageo EQMS Case Study
image credit: OHAC
Underground tunnels, beneath St James Gate Brewery
Rob Needham, Breda Tanner (Diageo), Tom Ray (Diageo) and Michael Ord on a mini-tour (on the way to lunch...)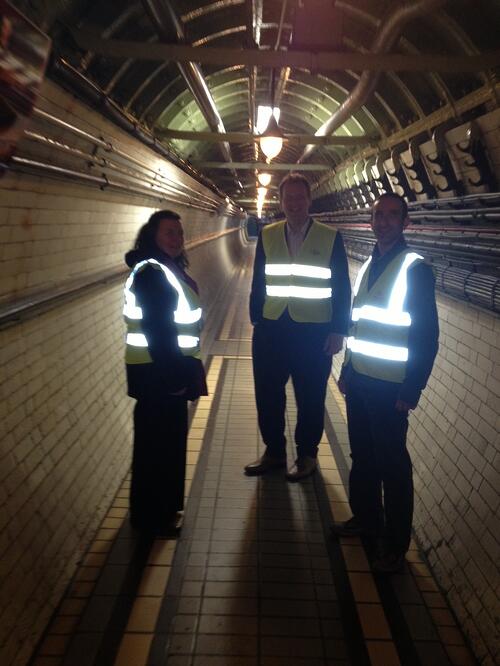 Wouldn't we all like an emergency Guinness 'Bat' Phone at work!
Site Visits and Training Webinars
The Diageo Site Visit is part of on an ongoing dialogue to help customers make the most of their EQMS.
Our Account Management team have been co-ordinating a series site visits, training and upgrades to put the latest Quality Management tools in customers hands.
Contact the Qualsys Team to find out more