Want to contribute to this article?
Document control. It's the main user requirement for document management software systems like EQMS.
Using PDF Conversion and Overlays, EQMS gives you control of documents both in the system, and out of the system if a document is printed.

This article is for those new to EQMS Document Manager, it explains the feature and benefits of 'PDF Conversion & Overlays' - how it will save your organisation time and minimise costly errors.
Controlling Documents within EQMS:
If the PDF Conversion option is activated in the system settings, users *with appropriate permissions' can upload documents in their native format (such as Microsoft Word, Excel etc) and EQMS will automatically convert these documents to PDF when they are opened by end-users.
The image below shows an example, 'Greentech Work Instruction'; which is uploaded into EQMS as a Word document, but is presented in the EQMS Navigator 'Active Window' as a PDF.

Benefit
End users can access controlled documentation but CANNOT download an editable version.

This stops users from downloading controlled documents and editing them without going through appropriate approval paths.

Depending on the industry this feature is a powerful risk reducer, and minimises that possibility of both costly and dangerous errors.

Document Managers and Owners can still access the original document in its native format.

So you still have the peace of mind and efficiency savings that EQMS naturally provides.

Controlling Documents outside of EQMS (i.e. when printed):
With PDF Conversion activated, documents can be printed *if user has permission* and key document metadata can be included within the document as an 'Overlay'.
In this example below, we can see that the Document Owner is Robert Oakley, and the Current User is Michael Ord (me). It also shows the Version number, Status, and current date/time.
Many other forms of metadata can be included and can be placed anywhere in the document. This is very useful for part completing forms and removing the need for manual, in document version control.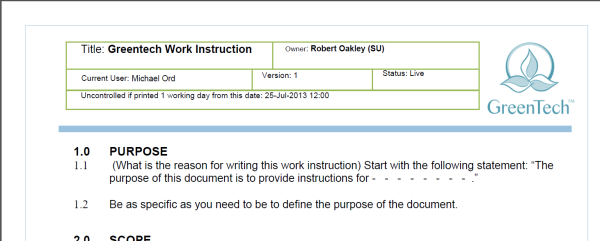 Benefit
A practical example of the benefit of Document Overlays is in a manufacturing environment.
Work Instructions are often printed from EQMS and used by the Engineer onsite. If a work instruction is buried under a coffee cup and used when out of date / superseded you can be talking about errors costing six figures and more.

With EQMS, users can be notified when a new version of a document is approved. By using overlays to impose 'uncontrolled if printed' dates and 'current user' we are controlling paper copies of crucial documentation.


Users are disinclined to keep hold of out of date documentation and reminded of the Audit Trail and personal accountability of ensuring the user of Approved, Live work instructions.
EQMS Dashboard - Reports are available for document views, acknowledgments, approvals and more.


Summary
PDF Conversion and Document Overlays are really useful tools to help control documentation and enforce quality management and corporate governance policies.
1. Uncontrolled if printed – no more coffee stained, out of date SOPs
2. Pre-filled forms – reduce time, admin, human error
3. Detailed reporting – document usage, acknowledgements and training records
We are more than happy to answer questions or provide a customised demonstration. Please feel free to get in touch.

Thanks for reading,
Michael Ord