Want to contribute to this article?
As George Osborne looks to make £11.5 billion savings in government spending and cut government borrowing by £49 billion, the public sector is facing its stiffest challenge for decades.
Local Government, the Civil Service and the Police are all in the throes of cost-cutting which is leading to an ever-increasing focus on front line services and the questioning of any non-core activity.

Outsourcing organisations are being approached to take-on non-core activity and are being challenged to drive down costs. The value of these opportunities may be lower than previous contract values but their volume is set to rise dramatically.
A typical example of this was announced earlier this month with Dorset Police's four-month trial of out-sourcing the guarding of major crime scenes to private company Securitas.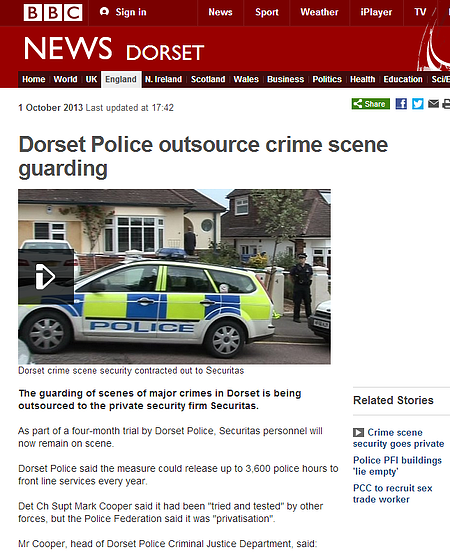 Police and Crime Commissioner Martyn Underhill recently highlighted Dorset as the fourth lowest spending force in England and Wales – an indication that a creative approach to managing cost can pay dividends.
Trend to lower value Outsourcing Contracts
The ISG Outsourcing Index for the Europe, the Middle East and Africa (EMEA) shows activity in the UK public sector worth €2.0bn in the first half of this year. Last year the annual market was worth €4.6bn, significantly more than double this year's first-half amount.

However, these figures track outsourcing contracts with an annual value of €4 million or more. Smaller contract values are ignored but will inevitably begin to form a much greater proportion of outsourcing business.
The shortfall in high value contracts may well prove to be a blip as full-year UK figures for 2013 will still exceed their five-year average. And the UK continues to dominate public sector outsourcing activity in the EMEA region. In the first half of this year, the two billion euros worth of public sector outsourcing activity that took place in the UK represented an astonishing five-sixths of all public sector outsourcing activity in EMEA by value.
Only outsourcing operations that employ systems to truly standardise services across multiple contracts irrespective of contract size will make commercial sense of these opportunities.
Technology platforms such as ECMS Change Management for Outsourced Service Providers from Qualsys provide the controls to deliver standardised, compliant services across multiple contracts and manage change control to optimise flexibility and maximise profitability.


Armed with tools like this, niche players are set to benefit as are the most nimble of the larger players. The growth opportunities for those outsourcing organisations that can demonstrate this agility will be huge.