Want to contribute to this article?



Want to stay on top when it comes to governance, risk and compliance? We've compiled an executive list of the top GRC Tweeters to follow to ensure you're at the forefront of the latest news, events and opinion.


Michael Rasmussen
Twitter handle @GRCPundit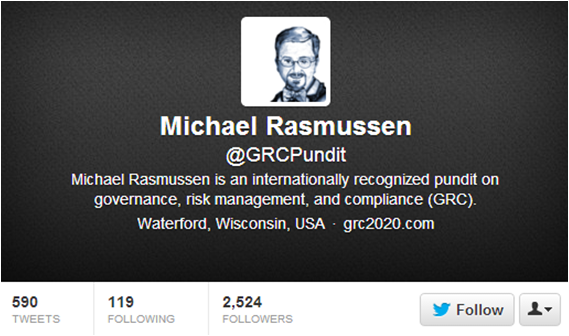 Known by the self-styled but equally justified moniker "The GRC Pundit", Rasmussen holds over 18 years' experience in GRC. Showcasing his expertise on the topics of enterprise GRC, GRC technology, corporate compliance, and policy management, not only is he an active Tweeter but also a regular keynote speaker, author, and advisor. He's also noted as the "Father of GRC" — being the first to define and model the GRC market in February 2002 while at Forrester. If you're not following him, you're simply behind the curve.
Matt Kelly
Twitter handle @complianceweek
Matt Kelly is editor of the globally revered Compliance Week, one of the leading information services on corporate governance, risk and compliance. A serial Tweeter at the vanguard of GRC news, if any breaking information surfaces you can guarantee he will have a handle on it.
Tammy Whitehouse
Twitter handle @tammywh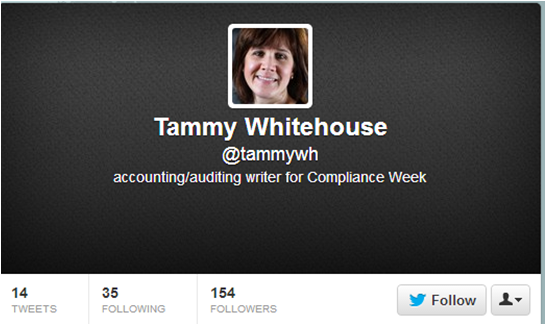 Another member of the Compliance Week team, Whitehouse is a long-standing business writer who's been a regular contributor since 2005. Specialising in auditing, her work has been featured in an impressive index of journals and periodicals including Journal of Business Strategy, Strategy & Leadership, Compensation & Benefits Review, Inc, and Buyside. What's more, her Tweets are purely business-orientated and highly focused.
Ted Bilich
Twitter handle @TBilich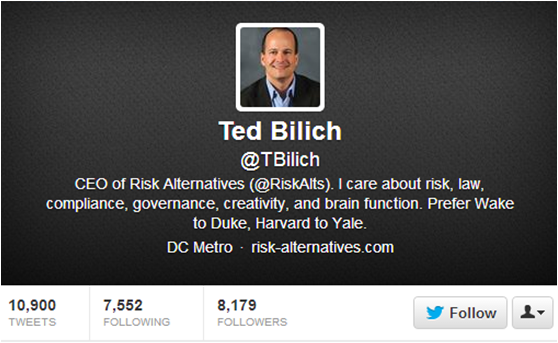 A reverend of risk, Bilich is CEO of Risk Alternatives, providing world-class governance, risk management, compliance, and dispute resolution services. Having counselled, facilitated, and taught in a wide variety of settings, including Fortune 100 companies, growing businesses and non-profits, Bilich is one of the world's leading experts in risk management and compliance – a title cemented by over 8000 Twitter followers.
Norman Marks
Twitter handle @normanmarks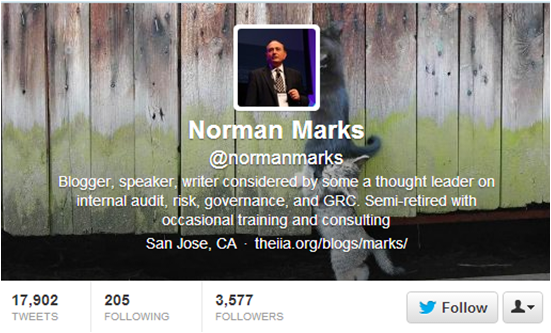 When Marks' Twitter bio states he's "considered by some as a thought leader", this may well be a modest understatement with over 3,577 followers. An "evangelist" and expert in internal audit, risk management, compliance and ethics, Marks has led large and small internal audit departments, been a Chief Risk Officer and Chief Compliance Officer, and managed IT Security and governance functions.
And Not To Forget....
Be sure to follow us @QualsysEQMS for the latest news, events and opinion within governance, risk and compliance and feel free to get in touch with any questions you may have regarding our software.