Want to contribute to this article?
Enterprises of all sizes are deploying electronic quality management systems and reaping the benefits of simpler management and higher flexibility, mobility and cost-effectiveness.
But electronic quality management systems vary in their functionality, scalability and resilience.
And when choosing a vendor, there's no point attempting to fit square pegs into round holes.
If your eQMS doesn't help you achieve your goals, it isn't going to be a success.
So we put together 3 steps to help you choose the best system for your business.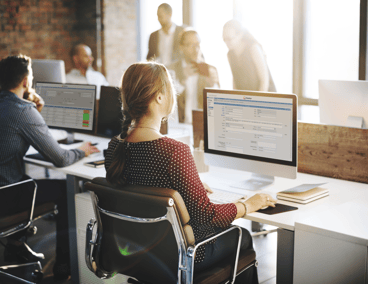 If you're looking to overhaul your quality processes, transform GRC management in your company, and are considering your software options to help you to achieve these goals, this three-step process will help you to eliminate suppliers who do not meet your requirements and choose the best software solution to help you to achieve your goals.
#1. Basic requirements
Firstly, ensure that your eQMS vendor meets all of your basic requirements. You have probably decided that you require an eQMS for auditing, document management, change management, risk management, supplier management, issue tracking and / or training records management so that you can achieve an ISO standard, improve regulatory controls or for better overall GRC management.
Start by defining what you actually need and check that the solution will meet those requirements. These will be completely unique to your company based on your external and internal requirements.
#2. Acceptance needs
For an electronic quality management system to be accepted by all parties, you need to ensure that the system will meet the "acceptance needs" of all stakeholders.
Here are some questions you should ask:
What GRC modules are offered and can they be integrated?

Will you require regular contact with your EQMS vendor?

Is the system easy to use?

Is there any evidence of the vendor innovating?

Can user access be controlled?

What do their customer references say?

What is the user experience like?

Do they offer ongoing support and training?

Does the vendor share your values?

Does the system support us to demonstrate our regulatory requirements?

Does this company provide innovative solutions?

Does the vendor have experience with standards our enterprise is trying to achieve?

How does the system automate administrative tasks?

Do they have implementation experience with similar businesses?
Financial questions:
What is the cost per user?

What is the total cost?

Is the pricing scaleable for when our business grows?

What ROI can we expect?

Is it an annual or outright license?
IT questions:
Does the system support a mobile workforce?

Does the vendor offer implementation support?

Does the system integrate with existing systems such as SharePoint, Outlook, and Microsoft Applications?

How is it hosted?

Are they investing in their EQMS solution?

How are updates managed?

What is the SLA?
At this stage, you're probably left with two or three eQMS vendors who can meet all your 'acceptance needs'.
#3. Achieve potential
In our buying toolkit, navigate to the vendor comparison tool. Download the link labelled Vendor Scorecard Tool and this will open an editable Excel spreadsheet.
Now consider 8-10 of your key success criteria for an eQMS. Add them into the spreadsheet under the column Success Criteria.
Here is an example: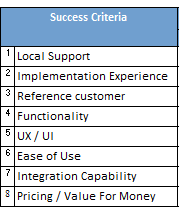 Put the vendor names under the column labeled Vendor Scores. Then give each vendor a score from 1-10 next to your key success criteria.

Once you've finished scoring each of your vendors, a radar chart will visually show you the best eQMS solution for your requirements.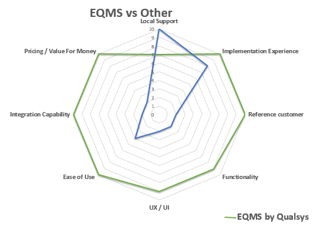 What Next?
We've added the vendor comparison tool to our buying toolkit.
You can also find a number of other documents to help you build a business case and win stakeholder engagement.