Want to contribute to this article?
Scandals, adverse incidents and ethical misconduct are all governance failures we see all the time in the headlines.
But these often only represent the 1%.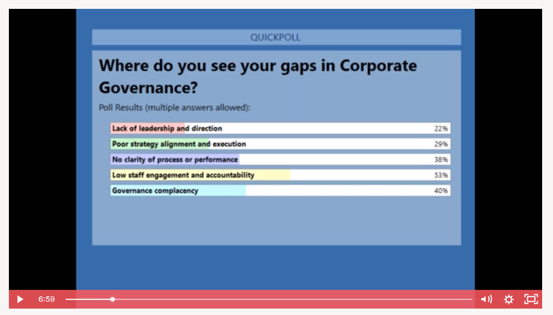 Image: Low staff engagement and accountability is the top corporate governance challenge
Most businesses have a responsible governance culture. Employees have the best intentions at heart. And most leadership teams truly care about the economic, social and environmental impact of their business.
According to Chris Owen, Services Director at Qualsys, the real challenge is taking your corporate governance culture from good to great.
In a recent IoD webinar, Chris Owen and Kate Armitage shared their experiences on:
How do you get employees to engage and be accountable for corporate governance?
How can you use your workforce to promote corporate social responsibility and be the ethical voice of the business?
How can you implement a world-class corporate governance program during turbulent times?
What are the key checkpoints to deliver a robust, reliable corporate governance structure?
If you missed the live webinar, you can access the recording by filling in the form below.
Watch the Corporate Governance webinar:

(Fill in the form and you will be directed to the recording)