Want to contribute to this article?
Global drinks manufacturer Diageo has been ranked top of the Institute of Directors' (IoD) and Chartered Quality Institute's (CQI) Good Governance Report.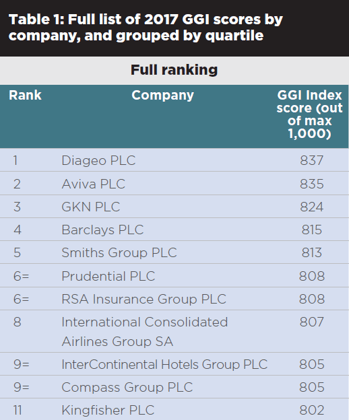 Every year, the IoD and CQI survey a range of businesses on a number of good governance indicators. This year, there were some additions to the indicators to better reflect what society considers to be good governance.
Estelle Clark, Executive Director of Policy at the CQI, said: "It would've been easy to keep the measures in the 2017 Good Governance Report the same as those used for last year's research, and I'm sure many would've liked the resulting comparability between years. However, society's views of what constitutes good governance change over time and it's important that the IoD and CQI research takes the lead in reflecting these changes in the way that governance is understood and measured."
In 2017, there were 47 good governance indicators, including audit, risk, reward and stakeholder relations. Each business was given a score out of 5 for their ability to plan and manage each indicator.
After a thorough analysis, Diageo ranked highest for their robust governance management processes.
Robert Oakley, Commercial Director at Qualsys, has worked with the governance, risk and compliance team at Diageo since 2005. "This is an enormous achievement both for Diageo and Qualsys," Robert said. "Diageo have been using our quality management software to manage their documentation and audits for over a decade, and over that time, we've seen their governance, risk and compliance management system mature.
"We've been working closely with their team to make governance, risk and compliance a natural part of the company culture. It's really rewarding to see that all the hard work has been recognised."
Read Diageo's tip tips for implementing an electronic quality management system here: http://quality.eqms.co.uk/blog/10-tips-for-implementing-eqms-in-a-multi-national-organisation-diageo.