Want to contribute to this article?
When your business is growing, information gets created at an accelerated pace. Disparate documents are get frustrating to manage, and this leaves your business exposed to all sorts of risks.
You want a system which is going to prevent duplication of effort, ensure everyone is compliant with relevant regulations, and accessible for employees across the business.
You know you need a document management system, but there are hundreds of different tools to choose from and hundreds more features available.
How do you decide which is best for your business?
This document management system best practice guide will walk you through evaluating document management tools, from how a document management system will help your business to how to mapping your needs to core features.
By the end of this guide, you'll know how to choose the best document management system to meet your business requirements.
FREE DOWNLOAD: Document Management System Business Case: CLICK HERE
Don't waste time and energy evaluating document management systems and features you don't need.
Here's what you'll find in this guide:
1) What is a document management system? And what are the different types of document management systems?
2) What are the benefits of a document management system?
3) How do I know if my company needs a document management system?
4) What is the ROI of a document management system?
5) What is the ideal document management system for my company?
6) How is Qualsys's document management system different from competitors?
7) I'm ready to move my team onto the Qualsys Document Management System.
What is a document management system?
A document management system is a tool that enables companies to control information flow throughout the business.
The best document management systems will make your business more efficient, scalable, resilient, and profitable.
Two different types of electronic document management systems (EDMS):
1) A document control system: e.g. EQMS by Qualsys -
The aim with a document control system not to house everything.
It's about putting the critical business information in a central management system.
Every document within the system is there because it is essential that the information is correct, up to date and accessible to the people who need it.
These systems often have strict controls, such as viewing permissions, document review dates, read and approve etc.
Documents which live in these systems are procedures, policies, controlled documents, compliance records, forms, processes, contractual information etc.
2) Content system:
Unlike a document control system, a content system is where you'll keep the bulk of your personal files.
This is usually a SharePoint, Google Drive, or simply a desktop file.
Content systems are great for mapping out ideas before you're ready to upload them to your document control system.
Many document control systems, such as EQMS Document Manager, will integrate with the content system such as SharePoint and Microsoft 365, to make it easier to share knowledge.
This guide focuses on document control systems (EDMS)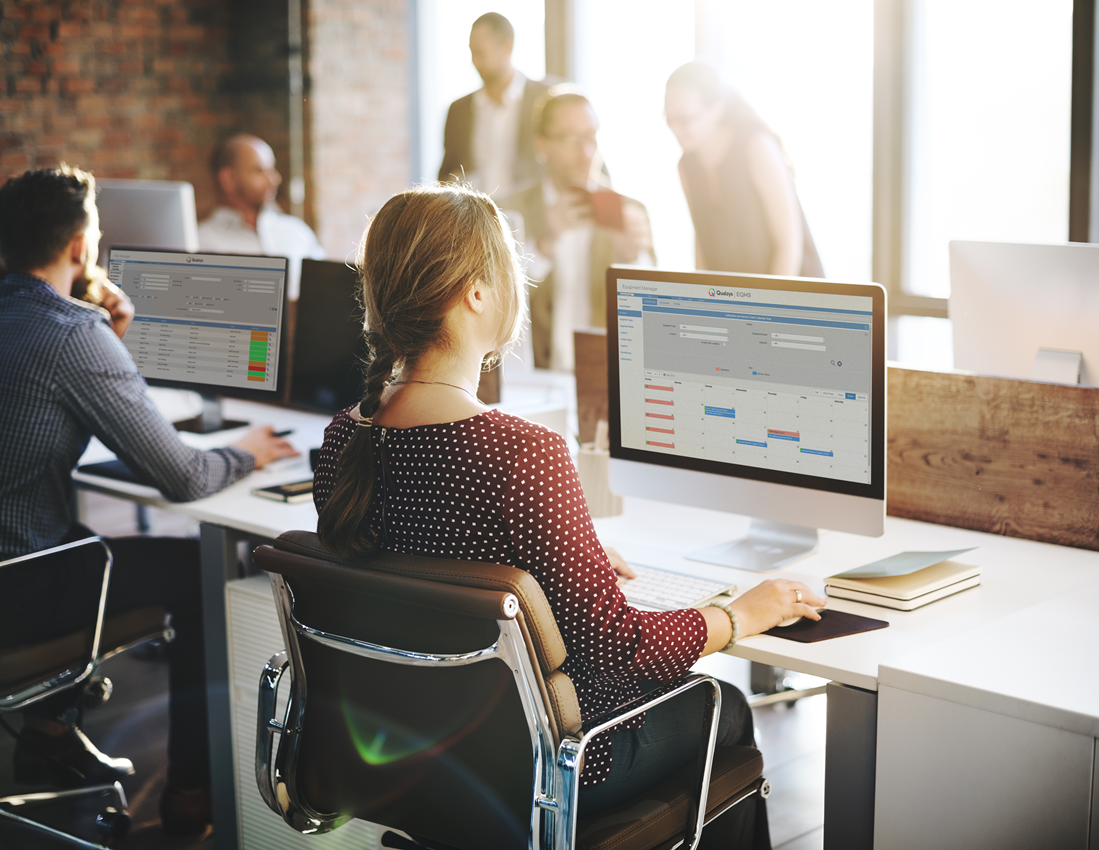 Benefits of a document management system
At many companies, knowledge is stored in many places - the CEO's brain, quality manager's inbox, a sales rep's SharePoint, or even a technical team's spreadsheet.
The issue?
There's duplication of effort, a lack of consistency and this drives confusion and chaos for everyone - including your customers.
As your company grows, you get more information, more processes and more people who need to work together. Companies find it gets harder and harder to know where the latest version of a policy, form, or procedure lives. It becomes painful to find answers like - how is the business performing? Where are the biggest risks? Are all procedures compliant to the latest regulations - and have they been properly implemented?
Document management systems are designed to solve these problems. By implementing a single source of truth and automating the notifications and to-do list to groups and individuals, your entire business becomes aligned.
You want to ensure the right person has access to the right information at the right time. Your most valuable and important asset is intellectual property assets.
Below is a view of how Qualsys's document management system uses an easy navigator tree format to view the enterprise's documents.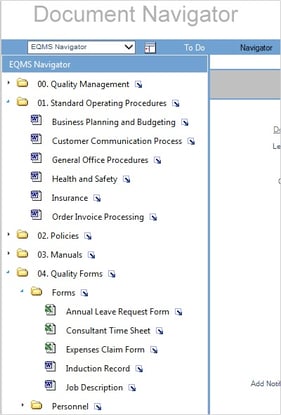 How to know if your organisation needs a document management system
Any company who has information will benefit from using a document management system.
Two types of companies that see the most benefit are:
Regulated / high risk companies: Demonstrate your commitment to compliance by embedding best practice with a document management system. If you're regulated by the FDA, MHRA, FCA, ICO, HSE, a document management system will be essential for demonstrating control and compliance.
Enterprises: The complex structure and nature of organisations with more than 100 employees makes it impossible to ensure consistency, collaboration and communication without a document management system.
Questions to ask when evaluating your need for a document management system:
Do I need to prevent certain people from accessing documents?
Are mistakes being repeated across the business?
Are we making the most of our knowledge and expertise?
Do we need a better way to know whether we are compliant to regulations and standards?
Is my team getting slowed down because they need to search various locations for information?
If you answered yes to any of the questions above, your business could benefit from a document management system. Adopting one sooner rather than later will help you avoid frustration and save you future headaches.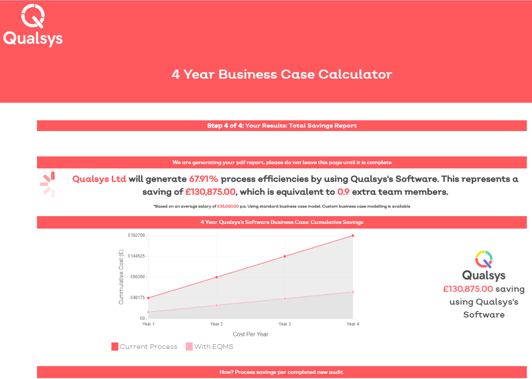 Try our ROI calculator for Document Manager
What is the ROI of a document management system?
There are two calculations which will help you build your business case for a new document management system:
1) Return on investment
Try our Document Management System Return on Investment Calculator for an instant total cost savings and ROI calculation. You will also be sent a personalised business case template direct to your inbox.
Interactive ROI calculator: www.roi.qualsys.co.uk
2) Total cost of ownership calculator
Compare the ROI with the total cost of ownership of your current systems:
How long does it actually take to notify everyone of process and procedure changes?
How much does it cost to store all these documents?
How much does time does it take to follow up on document changes?
Total cost of ownership tool: https://quality.eqms.co.uk/total-cost-of-ownership-calculator
Document management system best practices:
Here are a few tips to help you to get the most value out of your document management system:
1. Think about your overall architecture
Many companies approach Qualsys with a user requirements specification for a document management system. However, once they see the power of EQMS, they realise it's not just a single purpose application.
You don't necessarily need to ditch all your existing business applications - flexible APIs means you can bring data into the central document management system.
Nor is document management the limitation - EQMS is a modular quality management software tool which enables you to not only control documents - you can manage employee competence, risks, CAPA & audits.
A document management system is much like buying clothes for an 11 year old. You'll want to find something you can grow into, rather than having to invest in multiple systems over various years.
Read how enterprises use EQMS as their Single Source of Truth
2. Use a vendor scorecard and compare 5 different companies
In this Buying Toolkit, you will find templates to help you to compare document management solution providers.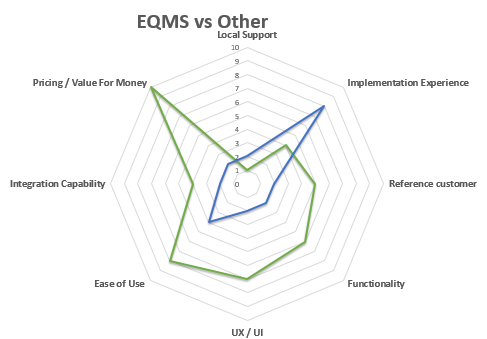 Buying toolkit: quality.eqms.co.uk/eqms-buying-toolkit
Choosing the ideal document management system for your company
Being prepared:
When starting any new project, it can be difficult to decide which questions to ask. We recommend starting with our Buying Toolkit for lots of free, valuable resources to help you to put together a draft business case document.
Here are 30 questions to ask throughout the process:
What are the risks of implementing a document management system?
What are the risks of not implementing a document management system?
Do I need the document management system to integrate with existing software and applications?
Do any other departments need administrative access to control documents?
Is there a good cultural fit between my company and the software vendor?
Who is going to be on the document management project team?
Do we need to add any other additional software modules?
Is it easy to extend the document management system at a later date?
Do I need to send out a technical user requirements specification?
How many end-users am I going to need? Is the pricing model scalable for my organisation?
What is the vision for how documents are controlled in my department and my organisation?
How will my customers, team and regulators benefit from automating document control processes?
Do we want to add suppliers to the system?
Will the document management system provide competitive advantage?
Do we need people in remote locations to be able to access the system?
How many administrator licenses do we need?
Does the vendor constantly invest in the software?
Does the vendor have reviews / allow me to visit their existing customer?
How will using software prevent wastage / increase profit?
What do the software costs look like over 5 - 10 year?
Will the implementation process of an integrated management system help us achieve ISO standards more easily?
Why do we need the software now?
How long will it take to roll out the system?
How will we replace legacy systems?
What regulations and compliance will the system need to help us with?
Will the vendor help me with end-user engagement?
Has the vendor worked with customers like me?
Does the vendor offer a community to network with other professionals?
Does the vendor engage with industry and the challenges professionals face tomorrow?
How much is physical storage space for your documents costing the business in time and money?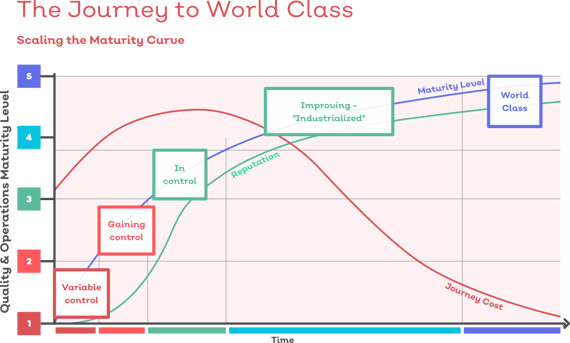 How Qualsys document management system is different from competitors
Qualsys's document management tool is used by global brands such as Honeywell, BT, Diageo, and Sodexo.
It's unique because our customers, industry partners and wider network have their say in our product road map. This means we're constantly adding cutting edge new features based on real user requirements. No other solution on the market has the rich functionality, combined with world-class customer success support to ensure you see lasting return on investment from your document management system.
Right first time culture
First and foremost, EQMS Document Manager is an integrated business management system. This means our customers find it easier to demonstrate compliance and quality best practice.
Our customers use our document management system software to comply with global regulations and standards, such as:
ISO 9001

ISO 14001

ISO 22301

ISO 37001

ISO 27001

ISO 13485

ISO 45001

ISO 28000

ISO 22000

BS ISO 10001

ISO 31000

ISO 14971

ISO 50001

ISO 19011

ISO 41001

IATF 16949

BRC

SMETA / SEDEX

HSE

CLP

FDA

MHRA

FCA

GDPR

Modern Slavery Act

REACH /HACCP
Features of Qualsys's document management system:
Top 36 document management feature examples of the EQMS Document Manager solution:
ISO 27001 Cloud hosting or host on premise

Consistent meta data applied to documents

Complete lifecycle management of documents

Control forms, procedures, files, CAD drawings, PDFs, etc

Electronic signature integrations - compliant with FDA regulations

Configurable file structure management system

Guided set up and installation

Mobile readiness

Incorruptible files - audit trails, archived documents

Workflows ensure documents are approved before go-live

Version control

Attractive end user interface

Permission management - FREE end users

Integrate with the wider business management system by purchasing various modules - e.g. Associate records with training, issues, risks, equipment, suppliers etc

Supplier or customer document control portals

Reduce the need for physical storage

Smart document search engine functionality

Microsoft SharePoint, Word, Excel and PowerPoint add-ins

Audit trails

File archival

Backup and secure hosting

Single Sign On

Easy migration process

ISO 9001, life science and FMCG industry best practice guided implementation available

Bulk upload of documentation

Maintain the health of your system for good: Qualsys provides quarterly health check data, data cleansing and migration services to keep your system working for good

Custom to-do list and push notifications

White label branding of entire system

Business Intelligence Reporting tool - Schedule automatic document status reports direct to inboxes

Association Standards and Regulations with documents

Fast track compliance - Validation templates, scripts, guides take the pain out of the validation administration

Advanced document data stored: e.g. Document IDs, Types, Review dates, tasks, workflows, journals, risks, audits, comments, etc.

Locked superseded documents - Preserved but cannot be accidentally used

Fast access: Quick links, favourites and recently viewed enables users to access highest priority documents from a central screen
I want to see whether EQMS Document Manager is a good fit for my business. What's the next step?
Request a discovery call with one of our sales reps, and you will:
Get the opportunity to ask questions,
Find out if we are a good fit for you, and vice versa,
Be set up with a demonstration / trial system
Click here to request your EQMS Document Manager discovery call