Want to contribute to this article?
Qualsys will be hosting a full-day GDPR workshop at our Sheffield office on 23 February 2018.
Do you know your ARs from your IPRs? Can you conduct a PIA? Do you know who the data controller in your business is? If, like hundreds of businesses in the UK, you need more information about preparing for GDPR, don't panic. A Qualsys survey in November 2017 found that 87% of businesses don't feel ready.
The General Data Protection Regulation constitutes the largest overhaul of data protection regulation in twenty years - and comes into force on 25 May 2018.
From that date, businesses found to be in breach of the regulation will be susceptible to fines of up to €20m (£17.56m) or 4% of their annual turnover, whichever is greater.
It's not surprising that businesses are nervous and scrambling to prepare and adapt before the big day. There's confusion and uncertainty about what compliance means and what steps to take.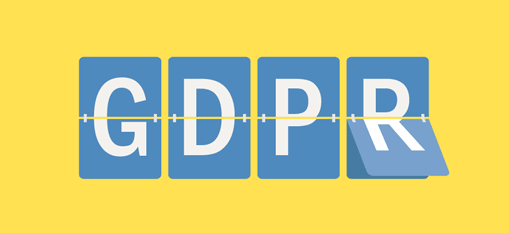 The Qualsys team will be offering expert support and guidance to businesses wanting to inform themselves about preparing for GDPR. Whether you're a Qualsys customer or not, our doors will be open on Friday 23 February for a full-day informative workshop in Sheffield.
Come join us and learn:
What GDPR means for your business
What to do before 25 May
How to conduct a PIA, manage risks, handle security breaches and prepare staff
How to manage assets, data types, customers and suppliers
Ten top tips from the Qualsys team
And much more. We will provide all delegates with a free information pack (and plenty of ideas!) to take away with them. To provide the most focused and valuable experience we can, places will be limited to ten delegates only on a first-come-first-served basis.
Get the knowledge you need to approach GDPR with confidence.
The workshop is priced as follows:
£399 (Qualsys customers)
£449 (non-customers)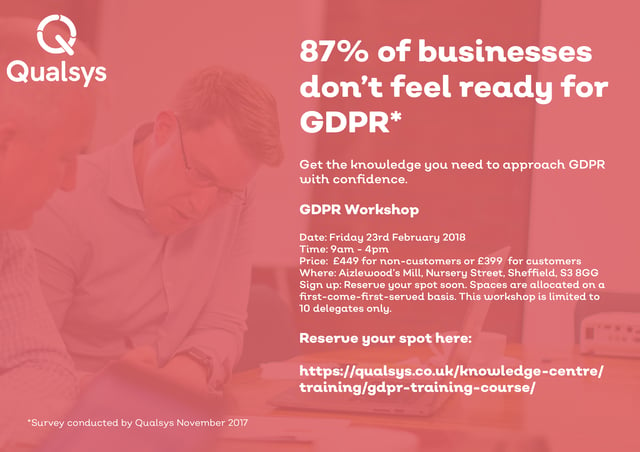 What you should do now
Sign up for the workshop here.
Read how our software suite helps businesses prepare for GDPR here.