For the fourth year running, Qualsys have launched the annual Global Quality Survey. It's your chance to have your say on how the role of quality and the industry is changing.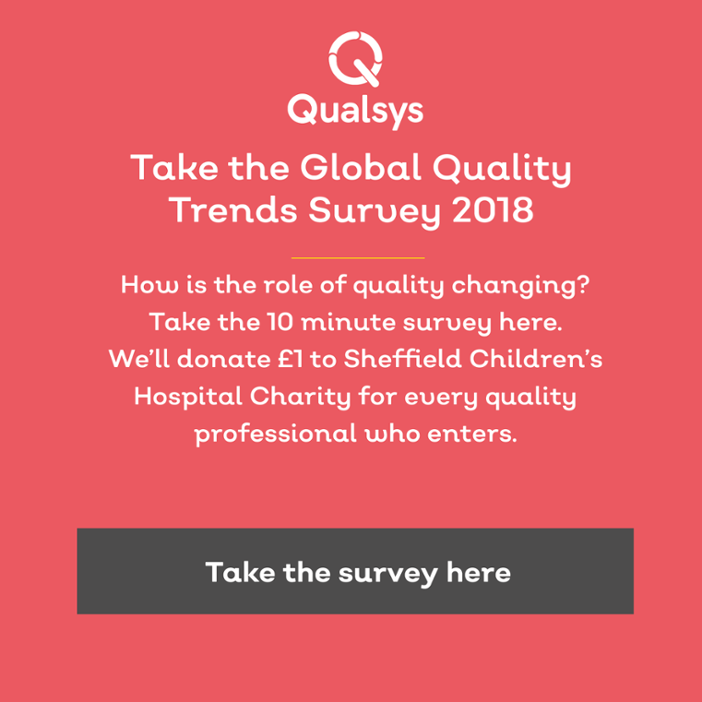 Never before have quality professionals encountered such pressure in balancing and prioritising various organisational demands such as:
Reducing the cost of poor quality
Improving customer satisfaction
Engaging a remote and global workforce with quality
As technology evolves alongside developing regulatory requirements, so does the role of quality. It's time to ask: how do you compare with others in your industry?
About the survey
The survey comprises 34 questions compiled by Robert Oakley, Commercial Director and Mike Bendall, Business Mentor.
We've kept many of the survey questions the same to help us to get a full picture of how the industry is changing.

£1 to Sheffield Children's Hospital Charity
For every quality, regulatory, or compliance professional who enters, Qualsys will donate £1 to Sheffield Children's Hospital Charity. Last year, we raised £151 for the charity.

Before you go...
See the results from the Global Quality Trends report 2017 here
Please also share the survey on Twitter & use #GQTS2018
#GQTS2018 Tweets