Want to contribute to this article?
E-signatures are a crucial component of modern, digital compliance, used to give electronic document interaction legal significance.
Here's how you can apply the e-signature functionality in EQMS.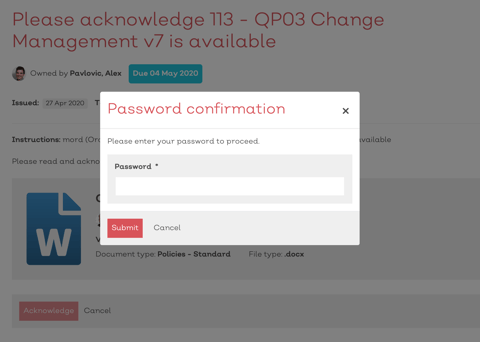 What is an e-signature?
An e-signature, as the name suggests, is an electronic representation of an individual's signature.
In a digital environment, it's a legally binding replacement of a wet signature used to indicate assent, approval and consent of an electronic document.
EQMS users may enter their unique and private username and password as their electronic signature, when the system prompts them to do so.
EQMS is structured around advanced electronic signature functionality, meaning every e-signature within the system fulfils 3 conditions:
1. It's uniquely linked to the signatory: EQMS credentials are known only by each individual user
2. It's capable of identifying the signatory: a username and password corresponds to each single EQMS user
3. It's linked to data within the signature that can detect any changes made: audit trail functionality with time-stamped signatures shows who made a change within the system and when
EQMS also fulfils the FDA's 21 CFR Part 11 e-signature requirements, and is used by Qualsys' medical device customers to demonstrate document compliance within their quality management systems.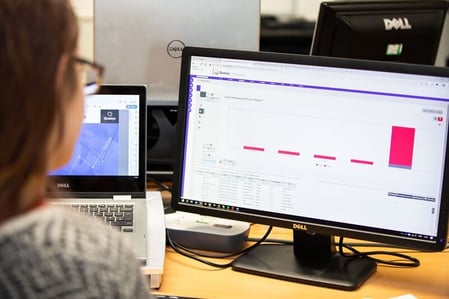 How can I apply e-signatures for my business?
There are numerous ways you can apply the e-signature functionality in EQMS for your organisation.
Here a few examples.
1. You've launched a new SOP and need to prove your colleagues have read it, understood it and begun adopting it in their work
Tick the 'request acknowledgement' box, then publish your SOP document into EQMS. An acknowledgement task will appear in the relevant personnel's to do lists. They'll be prompted to enter their credentials to e-sign their acknowledgement, and you can check at the click of a button who has read and acknowledged the document and who hasn't.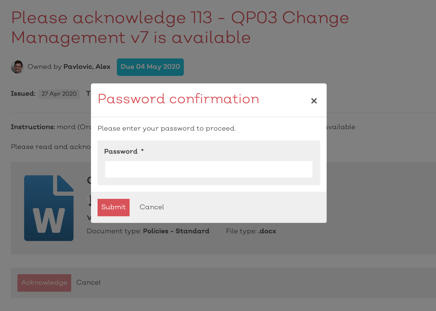 2. You need a particular person in your organisation to sign off on an action
Build a workflow in Issue Manager that funnels a check or review action to a particular user, such as a site manager or departmental head.
Once the workflow reaches that person, they'll be prompted. They can review all actions completed so far, and once satisfied enter their credentials to sign off and move the workflow onto its next step.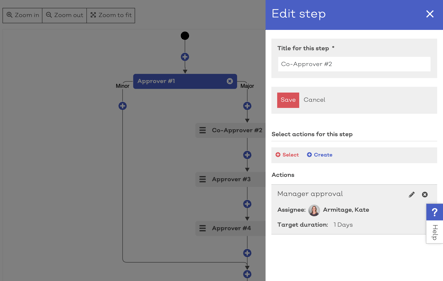 3. You need to get a key document such as a contract signed by an employee or supplier
In these days of remote working, walking up to someone to ask for a signature is impractical or even impossible.
You can set up any intended recipient, inside or outside your business, as an EQMS user and send them documentation to sign digitally.
Upload your document into EQMS, adding the relevant document type workflow and viewing permissions if it's private. For instance, if your commercial team needs to sign a contract, you could make the document viewable and editable only by that team.
Then send to the recipient to e-sign within the system.

4. You need to prove your staff are trained to a particular standard or guideline
If your business operates in any kind of regulated space, proving staff competence to a particular industry standard is a key part of maintaining your compliance.
Whether it's the latest food safety training for production staff or proving GxP awareness for a pharmaceutical client, e-signatures are used to confirm a particular piece of training has taken place.
Build a training record in Training Manager, then ask trainees to upload their certificates, add any comments, and then e-sign to confirm completion.

What's the benefit of an e-signature?
The time taken to get a simple document approval done, especially if your business is multisite and multinational, can be an unnecessary waste.
As one of our customers puts it:
Every time I had to make an update, I physically had to go and get the master copy, make changes, move around to get it reviewed, get comments, make changes again, then get it approved with a wet signature.

So you can imagine the time it was taking.

Now I can get an SOP and send it for approval quite instantly, inside or outside BAP Pharma. I got one of our QPs based in Holland to approve within my set timeframe. That just wouldn't have been possible with a manual system.
- Sajeevan Nirmalananthan, Head of Quality, BAP Pharma
Leveraging the e-signature functionality of EQMS can save hours per week by replacing manual processes, faxing, printing, scanning, or additional tools such as Adobe Sign.
It also gives you the ability to centralise all sensitive business information in a single source, strengthening your information security rather than pushing contracts and reports through third-party docusign systems or a physical delivery network.
Equally, you shouldn't underestimate the potential value of baking instant, legally binding processes into your information streams. One Qualsys customer managed to get a six-figure court fine for an operational error reduced by 96%, by proving that a key employee had acknowledged but diverged from published company SOPs.
Ultimately, like the entire EQMS system, e-signatures are a way of achieving airtight, traceable compliance more quickly and easily than a manual process.
More reading
Hear how Qualsys customers apply the other powerful features of the EQMS suite by visiting our case study library: