Want to contribute to this article?
ISO 13485 standard is currently under revision and is due to be published early 2016.
The following articles, groups, infographics and presentations have been collated to help you to make sure you're up to speed with the essential changes to ISO 13485.
1) Med Device Online
Marcelo Trevino, Senior Director of Quality and Regulatory Affairs at Nihon Kohden answers important questions about ISO 13485 in "What to Expect from the Upcoming ISO 13485 Revision."
An essential read for anyone who manages quality and compliance in an organisation manufacturing or providing medical devices, the article offers insight into:
Why ISO 13485:2016 publication has been delayed.
Why ISO 13485 is being revised.
Noteworthy changes to ISO 13485.
Read What to Expect from the Upcoming ISO 13485 Revision here.
Follow on Twitter: @MedDeviceOnline.
2) NQA
The NQA, an international provider of accredited certification, training and support services, also offers a comprehensive range of articles on their website.
"Proposed Changes to the ISO 13485" is an essential read for anyone who wants to understand the changing requirements of ISO 9001:2015 and ISO 13485.
Read Proposed Changes to the ISO 13485.
Follow on Twitter: @NQAGlobal and @NQAUSA.
3) Dr Victoria Cavendish: Delivering Quality in the Medical Device Industry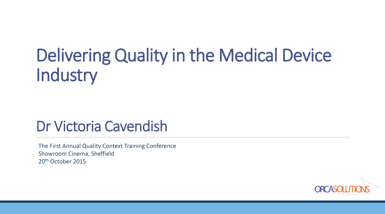 At Quality Contexts' First Annual Training Conference, keynote speaker Dr. Victoria Cavendish from Orca Solutions, provided insight into "Delivering Quality in the Medical Device Industry". An essential presentation for anyone who is new to medical device manufacturing or provides medical devices and wants to understand the relevant ISO standards in more detail, it covers a number of topics:
Comparison of a pharmaceutical product to medical device
Device lifecycle planning
Regulations
Quality Standards relevant to medical device manufacturers
Advice on optimising your QMS
Medical Device Product Development Process
Download the Presentation here.
Connect with Dr. Victoria Cavendish on LinkedIn.
4) TUV SUD Infographic: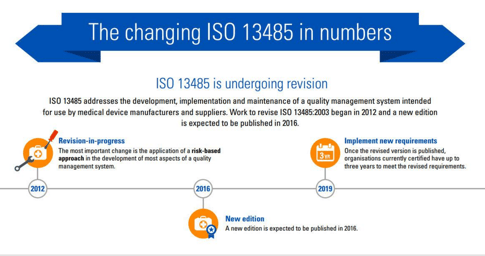 Testing, inspecting, auditing and certification company, TUV-SUD have created an infographic on ISO 13485 titled "The Changing ISO 13485 in Numbers."
The infographic provides interesting facts on the increasing popularity of the standard over the past few years. This is a great printable resource if you want to get buy-in from top management to pursue ISO 13485 certification. The infographic includes:
Timeline for changes to ISO 13485

Growth of the standard over the past 5 years

Breakdown of ISO 13485 certification by regions

Top 10 countries for ISO 13485 growth in 2014.
Follow on Twitter: @TUVSUD.
5) ISO 13485 Group

You have probably heard about LinkedIn - the leading business social networking tool where you can connect, share and ask questions regarding ISO 13485. You may not, however, be familiar with LinkedIn Groups. LinkedIn Groups give you an opportunity to access industry specific forums without actually requiring you to connect with individuals.
Join over 6000 industry professionals who are already part of the LinkedIn Group "ISO 13485: Medical Device Quality Management Systems - Implementation and Audit" to read interesting articles regarding the standard, ask questions about ISO 13485 and join conversations about medical device quality management systems.
6) Webinar: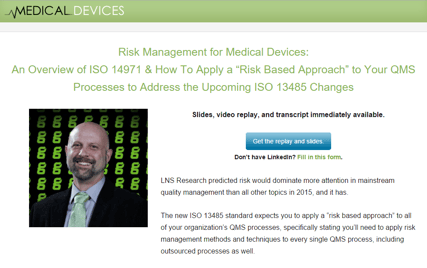 Medical Devices Group is an online advisory board group who collate and share industry leading information regarding medical device manufacturing quality and compliance.
In the online webinar "Processes to Address the Upcoming ISO 13485 Changes", Jon Speer, 16-year medical device industry veteran, provides insight into the challenges of implementing and processes required for ISO 13485 certification.
7) How to Implement a New ISO 13485 Quality System Plan: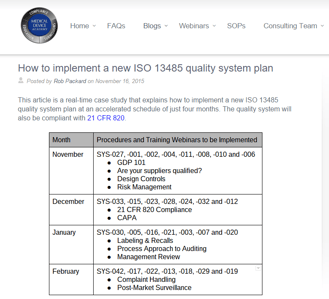 Medical Device Academy who offer medical device submissions, compliance and training services in the USA have put together an entire step-by-step guide to implementing ISO 13485 in "How to Implement A New ISO 13485 Quality System Plan".
This is an essential guide for anyone who is new to ISO 13485 requirements.
Time to implement ISO 13485
Document Change Notice
Developing Quality Objectives & Data Analysis
About your First CAPA's & more.
Have we missed anything? Please leave a comment below.
What Next?
EQMS can support you to deploy flexible and agile quality management systems and seamlessly transition to the new quality and regulatory requirements.
View our datasheets here: https://quality.eqms.co.uk/eqms-governance-risk-compliance-software-datasheets