Want to contribute to this article?
In quality, leadership and facilitation skills are key to success. Vince Desmond, CEO of CQI

said:
The message we get from the industry is that the technical skills are fine. What the quality industry needs are professionals who can translate the quality requirements into the business strategy. We need people with leadership and facilitation skills to make that happen.
This is why Qualsys runs a monthly competition - to provide an opportunity for any governance, risk and compliance professional to demonstrate how they are facilitating excellence in their organisation.
Winners receive a cake to share with their team! More on why and how you can enter here.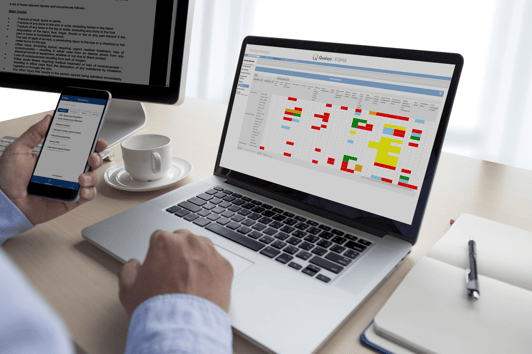 This month, Jim McIntosh, who works for the Ministry of Defence, in Business Processes and Assurance, shares his success story implementing a Business Management System.
The Business Process and Assurance Function (BP&A) was initially formed to take a look at how each area of the organisation operated, as part of a larger transformation project.

Prior to transformation, the provision of products and services to a defined level of quality focused on the contractual supply chain, and independently at various site locations.

There needed to be a consistent way of working so all people at all levels had an awareness and understanding of the BP&A function responsibilities for governance, assurance and improvement.

The solution was to implement a unified Business Management System .

This provides confidence we are:

Developing a risk-based, systems approach to the selection, planning and conducting of internal audits

Ensuring findings from audits are actioned appropriately in a timely manner

Embedding a culture of independent peer reviews

Maintaining required external certifications

Improvement - drive and embed a DE&S culture of objective evaluation, learning and improvement to deliver more efficient and effective processes, enhancing reputation and culture and increases levels of performance and profitability.

We do this through:

Conducting root cause analysis as required by the functions

Developing and maintain a system for incorporating learning from experience into the BMS and the governance framework
Assisting in developing a quality culture across DE&S that encourages continual improvement and the early identification and correction of quality issues
Representing DE&S on the Defence Organisation Learning Initiative (DOLS (which is responsible for ensuring an effective system of operational governance is in place)

Share your story. Win a cake for you and your team. Enter the monthly competition here.