At 4pm on Thursday 12th November, raise a glass of Qualsys' very own pale ale to appreciate, share and discuss the important contribution quality makes to your business.
Find out more about World Quality Day 2015 and how you can request your free pack of Qualsys' very own pale ales here.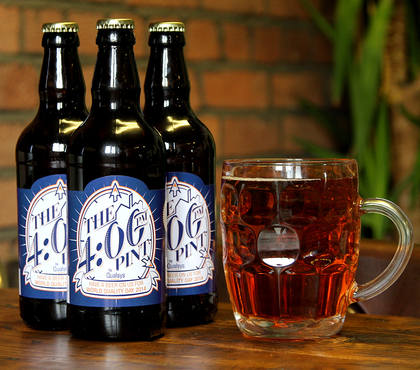 What is World Quality Day?
Quality management practices contribute more than £90 billion to GDP every year - accounting for 6.0% of the UK GDP. Not only do quality management programmes reduce waste, they save companies millions, promote innovation and are the linchpin of an organisations sustainability.
In a global economy where success depends on quality, innovation and sustainability, World Quality Day is a chance to reinforce these as the foundations of your organisation and focus on the importance of quality.
World Quality Day was established with the purpose of promoting awareness of quality around the world and to encourage individuals' and organisations' growth and prosperity.
This year, the CQI's the theme for World Quality Day is "Sweet Dreams".
Entice and engage your fellow employees in the importance of quality by delving into the world of chocolate by downloading the CQI's Chocolate challenge. There are a number of interactive and engaging exercises which focus on chocolate you can download on the CQI website.
Download your CQI Chocolate Challenge Here.
Why the 4pm Pint?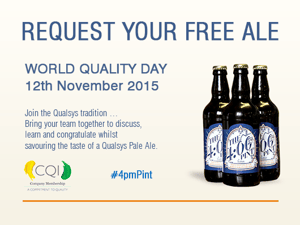 Every week, the Qualsys team get together in a quality circle to discuss, share and learn about other areas of the business. It gives the team time to reflect and ideas are often born.
Qualsys is delighted that we will once again be offering free packs of ales to those who wish to join our tradition of the 4pm Pint on the World Quality Day.
Get involved by requesting your very own pack of three ales. Then take a photo of you and your team enjoying your 4pm pint.
Either upload the photo to twitter using the hashtag #4pmpint or email it to Qualsys so that we can promote the important contribution quality makes to businesses across the globe.