Your company has been there - your staff followed a set process, but it failed to meet the needs of your customer. Perhaps your company over-promised and under-delivered, or delivered nothing at all. It resulted in a customer complaint, lost your company money and potentially a bad review.
However, few companies have faced as much outrage as United Airlines last week.
Turbulence on the ground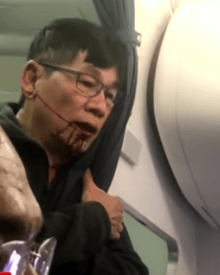 The airline suffered a public relations nightmare after a video showed security officers dragging a bloodied passenger off an overbooked flight in Chicago to make space for a member of staff. The result was backlash on social media, billions of dollars wiped off their market share and a seriously tarnished reputation.
In an interview with ABC's Good Morning America, Oscar Munoz, CEO of United's parent company said he felt "ashamed" and has promised to review the airline's passenger-removal policy.
Munoz said: "That is not who our family at United is. This will never happen again on a United flight. That's my promise."
We could focus on why a thorough risk assessment hadn't been done on the policy beforehand to prevent such a PR disaster. However, one of the most worrying aspects of what happened was that none of the staff took the initiative to stop the situation before it got out of control.
The staff followed the set process, but they forgot on the most important thing. The people.
The airline invites you to "fly the friendly skies", so why were they not friendly on the ground? Why didn't the airline staff help the customer? Why didn't they step in, realising how much the flight meant to him?
Moral conscience of the organisation
Kate Armitage, Quality Manager at Qualsys Ltd said: "This incident raises an important question - where was the moral conscience of the organisation? Indeed, United Airlines had the right to remove a passenger. It doesn't mean that it was the right thing to do."
Armitage continued: "The purpose of ISO 9001:2015 is to ensure the organisation is consistently supplying products and services that meet customer requirements. This incident shows employees following a policy, but forgetting customer needs."
The revised ISO 9001:2015 standard has more explicit requirements for leadership commitment, risk-based thinking and a process approach. Changing employee mindset from rules-based to full ownership and accountability is essential for organisations to remain certified, and for a culture of quality.
Armitage added: "Organisations need to move beyond rules-based processes of the past - where employees feel they must simply follow a set process, towards a "true culture of quality" - an environment in which employees seek improvement."
Read: 4 Essentials for a Culture of Quality - Harvard Business Review
United Airlines surely doesn't like this shot taken earlier today on one of their flights 😄#UnitedAirlinesAssault pic.twitter.com/VWOSHCAuDr

— Frank Lusk (@Frankie78209) April 18, 2017
New slogans for United Airlines:
Our prices can't be beaten...but our passengers can.
We put the hospital in hospitality.

— ❄️Snowflake Power❄️ (@Amplitude350Lee) April 17, 2017
Start by Assessing Behaviour
So how can organisations encourage ownership, accountability and improvement?
In Culture May Be The Wrong Question, Norman Marks, says that while be should be worrying about culture, it can be difficult to assess as there is hardly ever a single culture.
There are also often differences between teams, locations, as well as changes over time.
Instead, Marks suggests we start by assessing behaviour.
How to do this?
In the article, Marks suggests taking the below list and making is specific for your own organisation. Then assess each attribute for your team, department, location and organisation as a whole.
What behaviours do you want your organisation and its people to demonstrate every day?
What are the risks to achieving the objective you just defined?
What actions (i.e., controls) are you taking to provide reasonable assurance of appropriate behavior?
Is there reasonable assurance, or are the risks to behaviour outside desired levels?
How are you monitoring both the level of risk and the incidence of undesired behaviour?
What needs to be done to provide reasonable assurance that people, both individuals and groups, will behave the way we need them to behave?
Change Behaviour
If you found any weaknesses and inconsistencies across your organisation, Michael Ord, Director at Qualsys Ltd suggests building a stakeholder engagement plan. He said: "Introducing behavioural change can be incredibly challenging. There are many moving parts and it can be difficult to measure.
To help quality professionals navigate this shift, we have created a stakeholder engagement toolkit. The toolkit gives you a step-by-step guide to make you an agent of change."
To become a change-agent, download the Stakeholder Engagement Toolkit here.
Alternatively to learn more about the new ISO 9001 risk-based thinking requirements, download the ISO 9001:2015 toolkit or sign up for the ISO 31000 toolkit.