Want to contribute to this article?
Qualsys are delighted to welcome pharmaceutical development company Nanopharm as a new EQMS customer. Nanopharm will be implementing a full suite of EQMS modules to support scalable quality and compliance management systems.

Nanopharm is the leading provider of tailored analytical and product development of orally inhaled and nasal drug products (OINDPS). It will be using EQMS to manage all their documentation, audits, corrective and preventive actions.
Susanne Durie, Head of Quality at Nanopharm, said the team are excited to see how the system will grow within their organisation. "We're looking forward to exploring the software and finding out how we can make the most of it."
EQMS by Qualsys is the preferred solution for many pharmaceutical development companies, as the software helps connect data, processes, business systems, assets and people in a central, unified solution. The system helps organisations to meet standards such as ISO 17025, ISO 13485 and ISO 14971, and robust controls required for MHRA and FDA.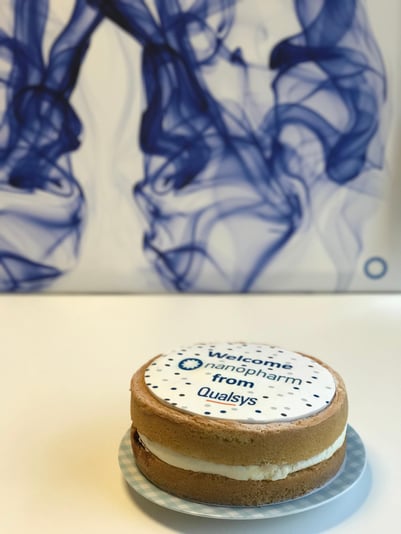 Welcome cake sent to Nanopharm

Alex Swan, New Business Manager at Qualsys, has seen many life science and medical device manufacturers discover more hidden value in EQMS during the implementation process.
"The Qualsys implementation team take a best-practice approach to implementing EQMS," Alex said. "This is the best opportunity most quality professionals get to take a deep look at their processes and, with our help, make them more streamlined, efficient and compliant.
"After the implementation process, not only do our customers see considerable cost savings, they find their organisations are more agile and faster to adapt to change. We help other businesses to become fitter, faster and stronger."
EQMS KPI Dashboard
For more information about using EQMS for pharmaceutical, medical device and lifescience quality management systems, download our customer case studies here.