Want to contribute to this article?
Once again, Qualsys had the opportunity to interview Helen Gray, CQI expert at MQI Technical Consulting.
If you haven't already read Helen's previous interview on "When Six Sigma meets Industry 4.0" click here: https://quality.eqms.co.uk/blog/six-sigma-is-reborn-with-industry-4.0-helen-gray-cqi-expert-interview.
In this next article, Helen shares her opinion on the best risk management methodologies for reducing the risk of accepting bad products and rejecting good products.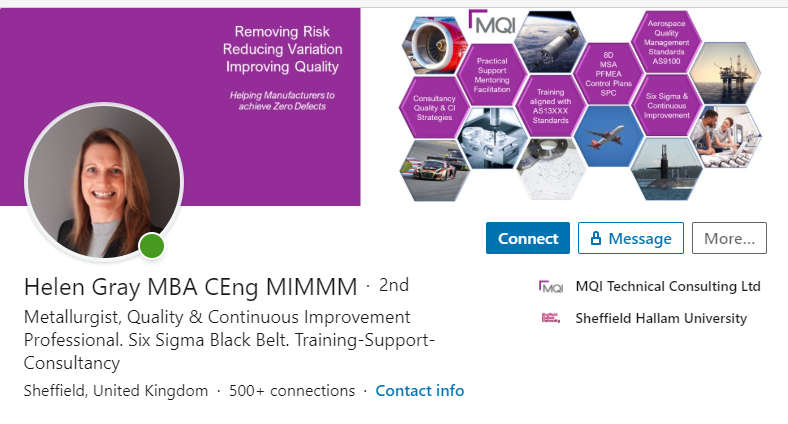 Connect with Helen on LinkedIn here: https://www.linkedin.com/in/helen-gray-mqitc/
PFME
A
Process Failure Mode Effect Analysis (PFMEA) is a very powerful risk management tool - if done correctly.
The problem with this methodology lies in the team dynamics and varying attitudes to risk within a team. Strong risk-taking personalities could dominate the team, resulting in a different risk profile outcome, which may not reflect the actual risks.
For this reason, an experienced facilitator should be used to manage team dynamics and ensure a balanced outcome is achieved.
Although not normally considered to be risk management methodologies here are several tools I use that effectively remove the risk of producing non-conforming products from a process:
Gage R&R
Gage repeatability and reproducibility (Gauge R&R), part of Measurement System Analysis, is a powerful tool. If done correctly can lead to major quality and process capability improvements without even touching the process itself.
Although Gage R&R is not considered a risk management tool, it does reduce the risk of accepting bad product as conforming and rejecting good product as non-conforming due to high levels of measurement variation masking the true result. Like PFMEA's, it is a time consuming activity which tends to be cast aside at the expense of production in a time-pressured environment.
More here: https://www.isixsigma.com/dictionary/gage-rr/
8D
8D is a problem-solving methodology which has three key stages to it.
The first stage is about containing the problem to prevent potentially non-conforming product reaching the customer.
The next stage is about finding the true root cause of the problem and putting a permanent corrective action in place to prevent the problem reoccurring.
The final stage identifies opportunities around the organisation on other products or systems where the same problem may occur, and preventative actions are implemented to prevent occurrence.
Article: 8D problem solving with EQMS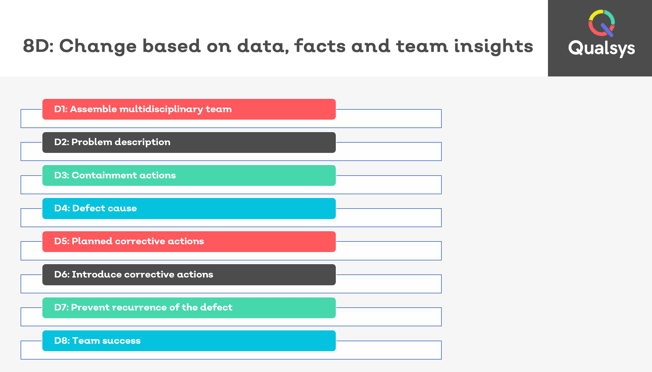 To conclude:
Process control methods cover a wide range of solutions from error proofing to prevent a mistake happening, checklists to ensure nothing if forgotten to Statistical Process Control (SPC) that removes the risk of a process becoming out of control. Again, not normally considered risk management methodologies, they all remove the risk of producing non-conforming product.
The Aero Engine Supplier Quality Strategy Group (AESQ) made up of top Quality executives from Rolls-Royce, Pratt & Whitney, GE Aviation, and Safran have identified these tools and methodologies as being key to improving product Quality, reliability and consequently passenger safety.
Because there were different requirements across the Aero Engine supply chain, requirements have been harmonised into a set of Aerospace Standards (AS13XXX) of which six have been published by SAE International to date. These tools and methodologies are found in the following SAE standards.
AS 13000 Problem Solving Requirements for Suppliers covering the 8D process
AS 13003 Measurement Systems Analysis Requirements for the Aero Engine Supply Chain
AS 13004 Process Failure Mode and Effects Analysis (PFMEA) and Control Plans
AS 13006 Process Control Methods
What you should do now:
Enjoyed this article? Here are three things you could do now:
1) Browse other blogs here: quality.eqms.co.uk/blog
2) Download our culture of quality toolkit for ideas, tips and examples of how to engage teams with different risk-taking appetites: https://quality.eqms.co.uk/culture-of-quality-toolkit
3) Connect with Helen on LinkedIn: https://www.linkedin.com/in/helen-gray-mqitc/