The pharmaceutical industry are increasingly required to meet new mandatory regulations. It's often a race to keep pace in these ever-evolving environments.
Staying on top of these new requirements means making sure processes, procedures and policies are updated and communicated across the entire organisation efficiently and effectively. Without strong systems in place, you face growing overheads and a huge administrative burden.
In this interview, quality manager Rob Gibson talks about how EQMS has helped his organisation Sodexo to reduce the cost of compliance at one of the world's largest pharmaceutical sites.
Watch the 3-minute video interview below or read the transcript that follows.
Thanks for reporting a problem. We'll attach technical data about this session to help us figure out the issue. Which of these best describes the problem?
Any other details or context?
message
Qualsys: What's your role at Sodexo?
Rob Gibson: My role at Sodexo is EQMS Manager. It involves working with the technicians at Qualsys to make sure we're getting the benefits of using the system.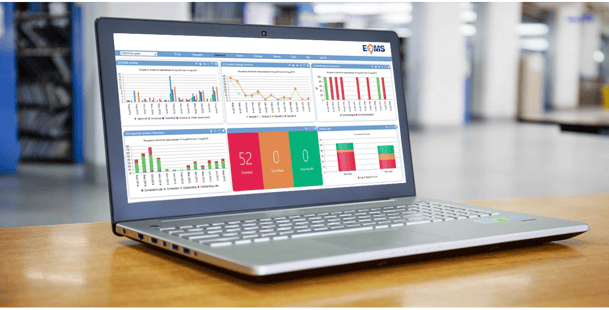 EQMS KPI Dashboard
Prior to using EQMS, what were the main challenges Sodexo faced?
The main challenge was reducing the cost of compliance in this heavily regulated market. There are a lot of regulations and standards that we need to comply with. That means having a lot of records, processes, procedures and policies. All of these were manual process with lots and lots of paper. Trying to keep on top of that is a major challenge. EQMS helps do all of that automatically and electronically.
EQMS also helps with our communciation. We're an international organisation, with subject-matter experts across the globe. Finding the time to talk to your colleagues across all of the different sites in itself is a challenge.
And the volume of activity is so high, just trying to take a few minutes when everyone is so busy to refresh what we're doing and to get up to speed, EQMS helps us with all of that.
Who benefits from using EQMS?
Sodexo's management team benefit in that they have more visibility and control over what's happening in the organisation.
We have our own local site managers where we know what processes are being improved. We're using iPads, which ensures that things are happening quickly.
We can get documents to people faster, we can update versions of documents faster, and all of that leads to our clients getting a better and faster service and a higher standard of work.


We have a lot of records, procedures and policies on paper, and trying to keep on top of that is a major challenge. EQMS helps do all of that automatically and electronically.

What's Sodexo's vision for EQMS?
Our vision for EQMS is for the system to become ordinary. To have EQMS rolled out into all contracts for storing records, for managing training records, for new processes. My vision is for EQMS to become an everyday, run-of-the-mill activity which helps us to keep the costs down.
What are the long-term benefits of EQMS?
The long-term benefit is that it reduces the cost of compliance with our international regulations and everything else we need to be compliant with. We have improved processes, better control, more visibility.
We have fewer incidents, fewer accidents and a higher-quality service. We're able to keep up with innovation and best practice. When we have other new innovations and techniques, we're able to cascade them out through the organisation rapidly and effectively so everyone has access.


The long-term benefit of using EQMS is that it reduces the cost of compliance with our international regulations and everything else we need to comply with.

How have you found working with Qualsys?
In an IT career that spans over 20 years, I don't think I've ever worked with a supplier who's so keen for us to succeed with their product. The relationship we have with the team at Qualsys is outstanding. They're really keen to ensure that we get the system, that we're using it well and that we're keeping in touch with new innovations and ways of using the system. Qualsys makes sure that we're evolving the system to meet our needs and the needs of our client. We're very happy. We have a very healthy relationship.
What you should do now
Download the EQMS Buyers' Toolkit to read more interesting case studies about using EQMS. Or, request a demonstration to learn how EQMS can be configured to meet your unique needs.