Everyone knows that the Six Sigma process improvement methodology focuses on defect reduction by control of critical variables.
Through a series of steps using improvement tools and statistical techniques, it's possible to identify and confirm the critical variables and interactions of a process that affect product variation.
But with all the tools and technology at our fingertips, is Six Sigma as relevant today as it was back in the '90s?
We recently interviewed quality and continuous improvement expert Helen Gray who is a metallurgist, quality and continuous improvement expert.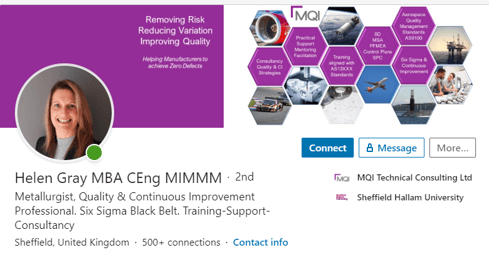 How can Six Sigma / Black Belt training be applied for Industry 4.0?
Back in the late '90s Six Sigma was very popular.
GE and other large organisations made it company policy that promotion wasn't possible without passing Black Belt training.
However, this was a double-edged sword.
Many Black Belts only completed their initial training project before being promoted. However, Six Sigma awareness did filter up the organisation.
As organisations were not gaining the real benefits, Six Sigma fell out of favour.
In the '90s and early '00s few organisations were data-rich, making statistical analysis much more difficult.
Six Sigma has now re-emerged as Lean Six Sigma where Kaizen tools have been integrated into the Six Sigma methodology.
With the advent of Industry 4.0, organisations are set to become data-rich.
Digitisation monitors machine conditions enabling cloud-based storage of big data. This is analysed and modelled using AI algorithms which adjusts machine parameters as they move out of control.
Machine digitisation offers a real opportunity to gain the benefits of Six Sigma promised in the '90s.
Emphasis is put on monitoring the critical variables and interactions rather than other less important process variables. Using this methodology, it is now possible for AI to identify and control these variables in addition to the current benefits of fault diagnosis and data-based maintenance regimes.
Key takeaways:
If your Six Sigma training is a bit rusty, now is a great time to get trained and utilise the principles and practices of Six Sigma.
Six Sigma isn't becoming obsolete as Industry 4.0 arrives. It's becoming more important than ever.
What you should do now:
1. Connect with our industry partner Helen Gray on LinkedIn
2. For more interviews with industry experts, subscribe to the Qualsys GRC newsletter here: https://quality.eqms.co.uk/receive-the-free-grc-newsletter