Want to contribute to this article?
A successful risk management system will keep your business aligned, prevent costly mistakes, promote ethical behaviours, and improve your profitability.
However, NC State University found less than a third of organisations have a complete enterprise risk management process.
For small businesses, risk can be managed on spreadsheets. Yet as businesses grow, evolve and merge, manually tracking risks and opportunities on spreadsheets and random, siloed documents is not a sustainable process.
Not only does a manual risk management system make collecting, assessing, evaluating and treating risk a time- and energy-consuming process, issues and mistakes start slipping through the cracks at an alarming rate.
ERM: Enterprise risk management software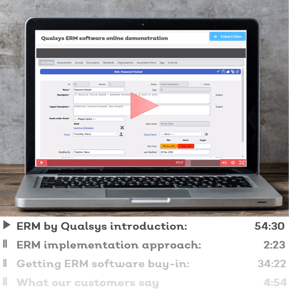 What does ERM stand for?
ERM stands for "Enterprise risk management."
A company's ERM provides a live single view of risks, opportunities and vulnerabilities. That means everything from incidents which occurred two weeks ago and are being treated (and why they happened in the first place) to assessments of the residual and inherent risks of a business change request.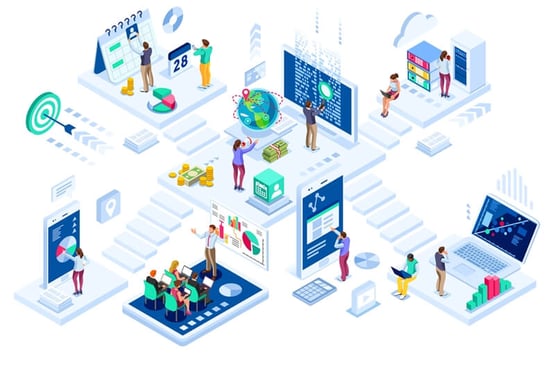 Image: Qualsys ERM sends data to and from different levels of the organisation to ensure collaboration, communication and critical thinking.
The benefits of using Qualsys ERM software
1) Traceable, rich risk data inventory: Feed live data from systems, employee feedback, environmental triggers etc. into your central risk management system.
2) Collaborative analysis: Apply your risk treatment methodology in the ERM - this could be RAG statuses, CVSS scoring etc.
3) Defensible risk evaluation process: Reduce legal risk and demonstrate ethical, critical thinking of complex business decisions. Use workflows, electronic signatures and audit trails to protect your business in the face of litigation.
4) Proactive, pre-emptive company culture: Protect and improve your reputation. No more nasty surprises during audits.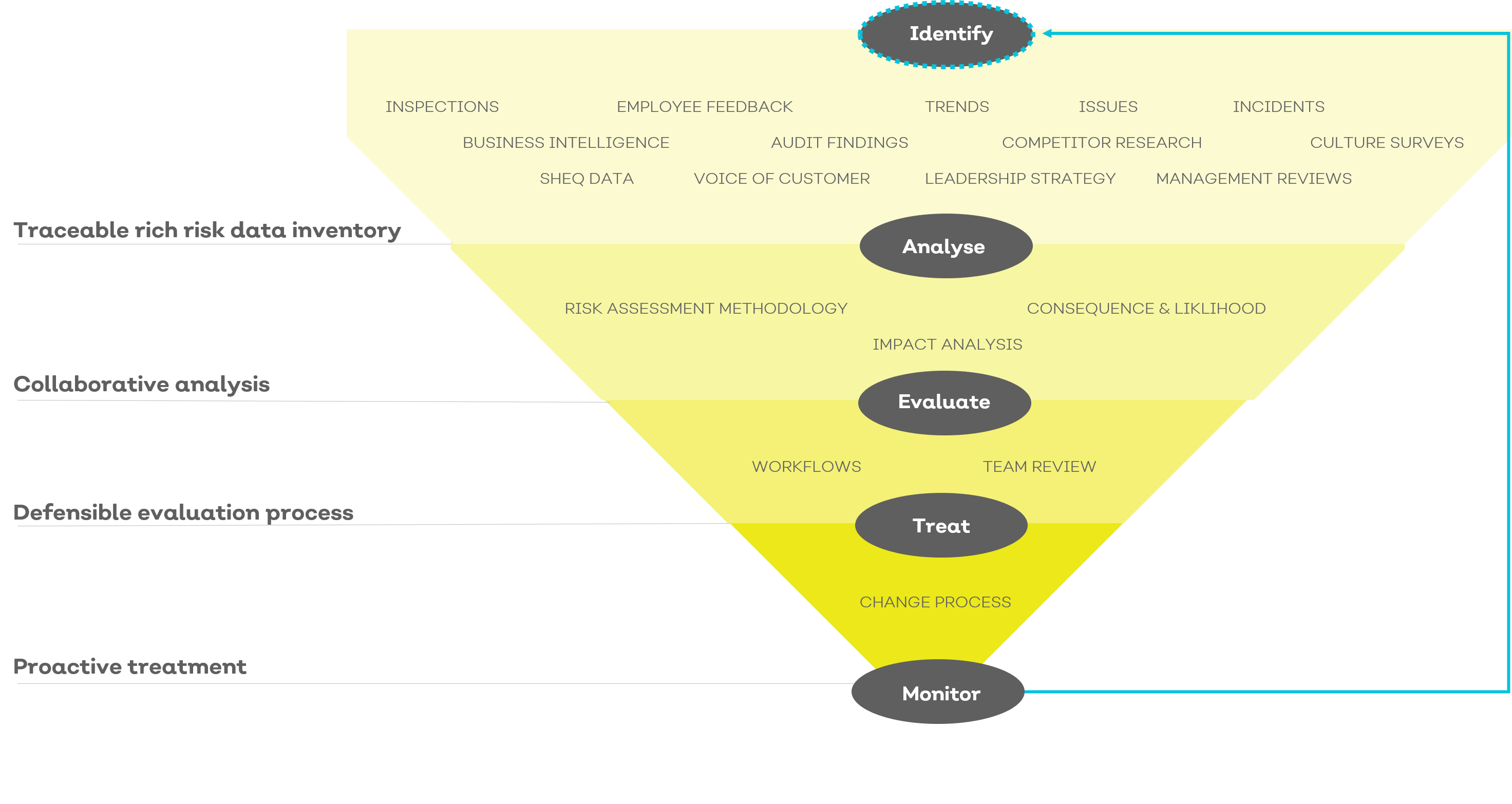 Image: Qualsys ERM process - Complex, but not complicated
Features to look for in an ERM software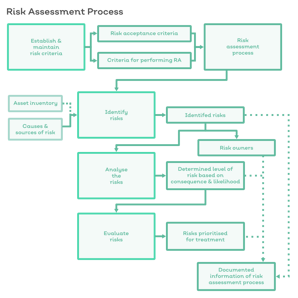 Your enterprise risk management system needs to be adapted to meet your risk assessment process.
This includes key risk management features such as:
ISO 31010 risk assessment techniques
HACCP, FMEA, cause and effect, delphi and cost benefit analysis
Apply control framework: COSO, COBIT, ISO 31000, ISO 14971
Risk assessment storage
Activate a risk treatment plan
Unique identifiers
Risk traceability controls
Risk record links
Configurable risk assessment process
Flexible risk categories with related processes

e.g. Strategic risk, compliance, operational, reputation risk

Risk assessment approval workflows / peer reviews

Risk suggestion tool

Risk record clone
These days, however, your enterprise risk management system needs to go beyond providing a framework for your risk assessment process.
Your enterprise risk management system needs to be integrated with the business. For example, ISO 9001:2015 mentions risk in every clause:
| | | |
| --- | --- | --- |
| Clause | Title | Description |
| Clause 4 | Context | Determine the processes required for operation of the quality management system and the risks and opportunities associated with these processes. |
| Clause 5 | Leadership | Top management must ensure that the risks and opportunities that can affect conformity of products and services and the ability to enhance customer satisfaction are determined and addressed. |
| Clause 6 | Planning | To give assurance that the quality management system can achieve its intended results, prevent or reduce, undesired effects and achieve continual improvement. |
| Clause 8 | Operation | The organisation is required to implement processes to address risk and opportunities. |
| Clause 9 | Performance evaluation | The organisation is required to monitor, measure, analyse and evaluate risk and opportunities. |
| Clause 10 | Improvement | The organisation is required to continually improve processes whilst responding to changes in risks and opportunities. |
Data needs to feed into your risk identification process. The assessment and treatment process then needs to flow throughout your organisation to drive positive change and transformation.
Here are a few features which are also included in the Qualsys ERM software: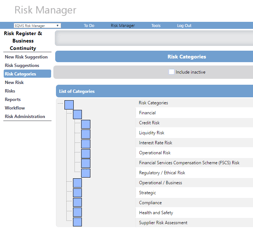 Business intelligence
Document, policy and procedure management
Flexible workflows
Audit and inspection management
System integration with finance, CRM etc.
Incident management
Quality events
Customer feedback - positive and complaints
Management review meetings
Competency and training records management
Flexible risk assessment tool
Equipment and asset register
Supplier register
Supplier portals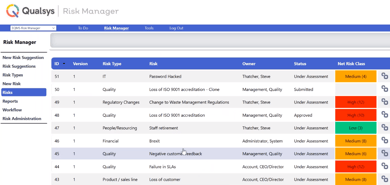 Implement an ERM: Start by finding an ERM software tool
Qualsys is the UK's preferred software tool for larger enterprises. Comprehensive ERM features coupled with an expert service means you have a world-class risk management methodology setup within weeks.
Watch ERM by Qualsys in action here: https://get.eqms.co.uk/enterprise-risk-management-software/