Want to contribute to this article?
Planning your quality management system?
Creating and documenting a detailed plan for your quality management system will help drive results around your specific goals, track progress and success.
As with everything, you'll want to do some research before you get started. In this article, we explain:
Different types of quality management systems
What quality management standards are available
Example quality management systems
Download our quality management system strategy playbook
What industry are you in?
Across different industries and sectors, you'll find variations in the role of the quality management system.
But how do you structure your quality management system?
General quality management principles say that you should define and follow all the best practice processes that you need (determined by you) to run your business / organisation, plus a selection of quality management supporting processes (audit, non-conformance, mgt review etc.) that are applicable to everyone.
Different industry standards / legal regulations then add to the list of mandatory processes and these are different depending on what you do. In some cases they even mandate what the processes have to contain. On top of this there may be voluntary codes of conduct.
Unfortunately not all processes that are relevant to an industry are necessarily relevant to every business within that industry. For example, a primary engineering business might require processes for product design, product manufacture and new product testing, while a sub-contract business may only be involved in one of these.
However, no matter what industry you're in, getting the right information to the right person at the right time is necessary for the success of your business. This is where quality management system (QMS) software comes into play.
Different types of QMS software support your business goals in different ways. Choosing the best QMS for your company requires looking at your objectives and determining the main quality challenges you need to resolve.

Configure training records management software for your quality management system
What are the benefits of using a QMS?
A good QMS enables you to focus on building a culture of quality and mentoring / training employees, rather than scrambling to keep tabs on all your policies, processes and procedures, you can see your strengths, weaknesses, opportunities and threats from a centralised system.
A QMS helps you make sense of large volumes of data, so you can focus on the most pressing issues.
Whether you are looking to implement a QMS for the first time or want to switch to something that better suits your business needs, there are several types of QMS software solutions you may want to consider.
Here are six benefits of implementing a quality management system
Quality management system frameworks
The most popular framework used is the ISO 9001 quality management system.
By certifying to the standard, businesses demonstrate they have a sound level of control over their processes and are invested in satisfying the needs of their customers.
Access our ISO 9001:2015 toolkit for information about complying with the regulation.
List of the different types of quality management system
Quality management systems can go well beyond managing documentation and policies.
Click on each of the below to learn more about the solution.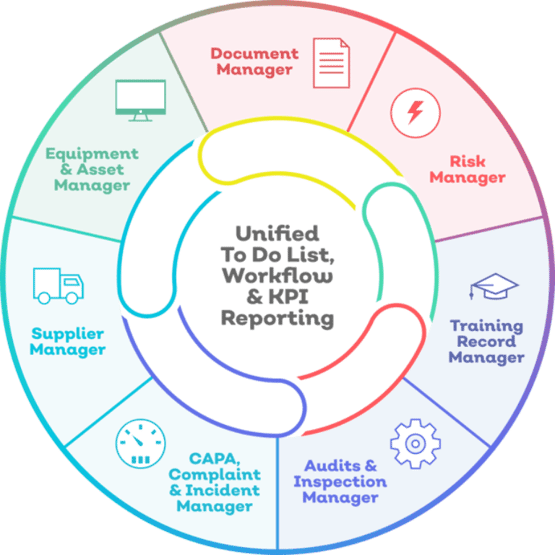 By module: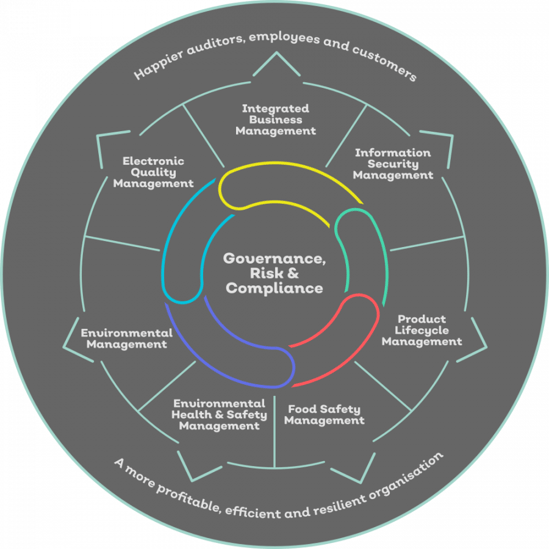 By management system
What to do now
Not quite sure what you need? Drop us an email, give us a call on +44 (0) 114 282 3338, schedule a discovery call at a more convenient time, or drop in for a coffee.
Alternatively, read more about the changing role of quality management systems here.