Want to contribute to this article?
The new ISO 45001 standard is currently under development, and expected to be published in February 2018.
Though you'll be able to gain certification to OHSAS 18001 until then, once the new ISO 45001 is published you'll have three years to migrate to ISO 45001 before the old standard is phased out. For now, you should continue to comply with the requirements of OHSAS 18001 despite the upcoming revision.
The new ISO 45001 standard has been designed in order to complement ISO 9001:2015 and ISO 14001:2015, with key terms and definitions consistent across both standards, a common superstructure in Annex SL, and parallels in the core text.
The anticipated timeline for the eventual publication of the standard is shown below: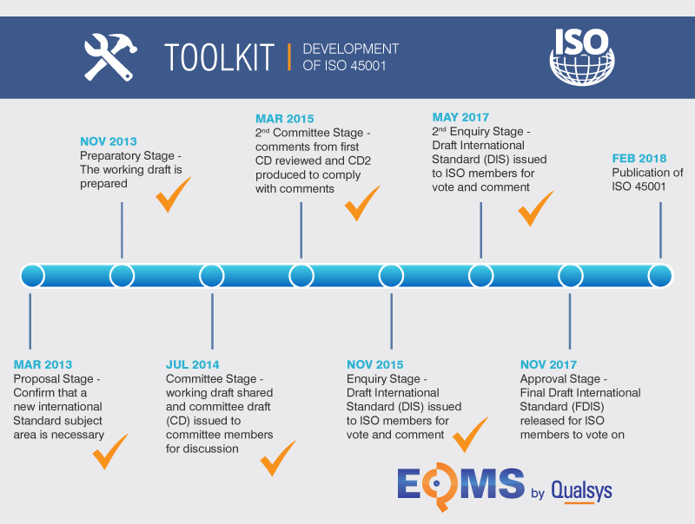 With publication of ISO 45001 only a matter of months away, you might want to start thinking about the fundamental changes, such as:
Greater prominence of occupational health and safety management within the strategic planning process
Consideration of your organisation's wider context
Greater emphasis on risk management and mitigation
The introduction of Annex SL
What you should do now
To learn more about the changes to ISO standards, watch our exclusive webinar with quality management consultant Richard Green. While Richard focuses on ISO 9001, the influence of Annex SL spans across all ISO standards.