Want to contribute to this article?
Too many health and safety management systems are still failing to protect their employees from injuries, diseases and, at worst, fatalities.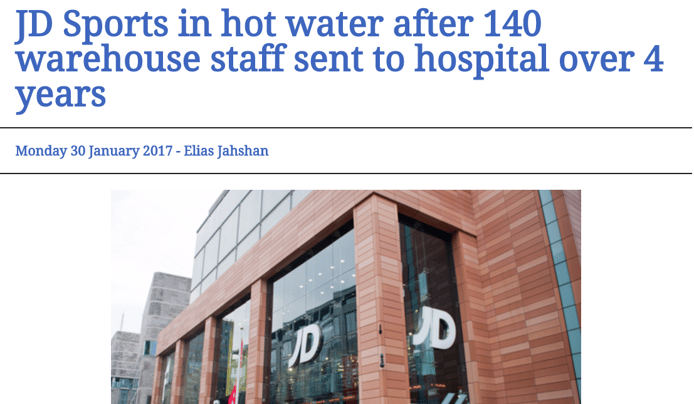 "Worse than prison"
Today it was announced that at least 140 warehouse employees at JD Sports have been sent to hospital in just four years, with conditions described by employees as "worse than prison."
JD Sports has only now, after 166 incidents, planned to launch an investigation into working conditions, saying that it is "deeply disappointed and concerned by the footage" and did not believe that it reflected its culture accurately.
ISO 45001
The anticipated arrival of ISO 45001 at the end of this year, hailed as the first truly international health and safety management system standard, means there will be more rigorous requirements on top management to ensure risks and issues have been appropriately managed. There will also be increased requirements to involve all levels of worker to increase responsibility and accountability towards proper health and safety management.
Engaging Your Team with Health and Safety Management
The below infographic has been designed for you to use internally. The infographic details:
Key health and safety statistics
Main causes of health and safety incidents
Essential questions to ask about your health and safety management system.
Share this infographic with your team:
<iframe width="800" height="6854" frameborder="0" scrolling="no" style="overflow-y:hidden;" src="https://magic.piktochart.com/embed/19805622-health-and-safety"></iframe>