Thanks for accessing the
ISO 19011:2018 management system auditing toolkit
Please find the resources below. Click to access.
---
---
---
3. 16 tips to meet ISO 19011:2018 requirements
---
4. ISO 19011:2018 PPT slides PDF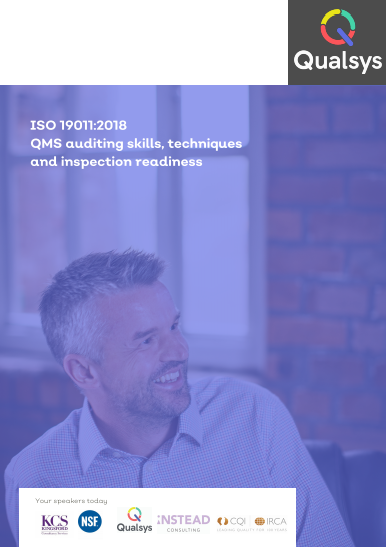 ---
5. 13 questions every internal auditor wants answering
Kate Armitage, Head of Quality Assurance at Qualsys, answers 13 FAQs.
---
6. ISO 19011:2018: The good, the bad and the downright ugly
Richard Green, MD of Kingsford Consultancy Services and member of the ISO 19011 committee, discusses what the standard gets right - and what it misses.
---
Qualsys Head of Quality Kate Armitage discusses what to look for in an ISO-compliant, quality-supportive leadership team.
---
8. ISO 19011:2018 software demonstration
---
9. Audits, inspections and reporting: identifying risks and opportunities
Chris Owen, Services Director at Qualsys, shares how to maximise your audit and inspection schedule to pinpoint and address risks and opportunities for your business.
---
10. Supplier and supply chain auditing
Kate Krachai of Instead Consulting discusses how to build a compliant, risk-controlled supply chain with carefully managed audits.
---
James Pink at NSF shares how to prepare for an inspection, how an inspection differs from an audit, and how to excel in front of an auditor.