Request a cost for our GRC software in 30 minutes
Three steps to calculate the total cost for implementing our management system software
Step 1: System Administrator licenses - End users are free. We'll need to know how many System Administrator credits you think you will need across the modules.
Step 2: Choose your support package - We'll send you information about our bronze, silver, gold and platinum support options.
Step 3: Implementation package - Tell us if you need any ERP / API integrations, custom development, additional training, custom templates, or validation support.
Fill in the form to the right to get price for GRC software in 30 minutes >>>
---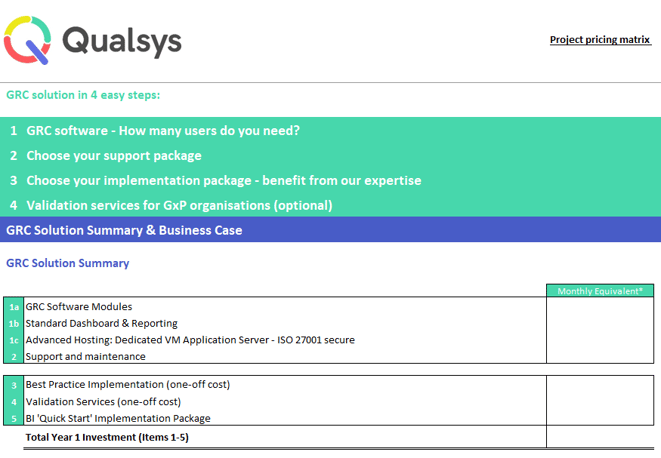 How we price our software
Many vendors will underestimate the energy, time, commitment and resources required to properly implement a new governance, risk and compliance management solution in order to win your business. This results in unrealistic expectations, costs which haven't been budgeted, and an unsuccessful, frustrating partnership for both parties.
Our pricing is based on 22+ years experience implementing over 400 systems. The pricing is agreed with our Service Implementation Managers, Development team, and existing customers as being reasonable in order to get the results our customers want.
Click here for our pricing FAQs
(Please note - our pricing is targeted at organisations with more than 50 employees. Pricing starts from £817 per month.)